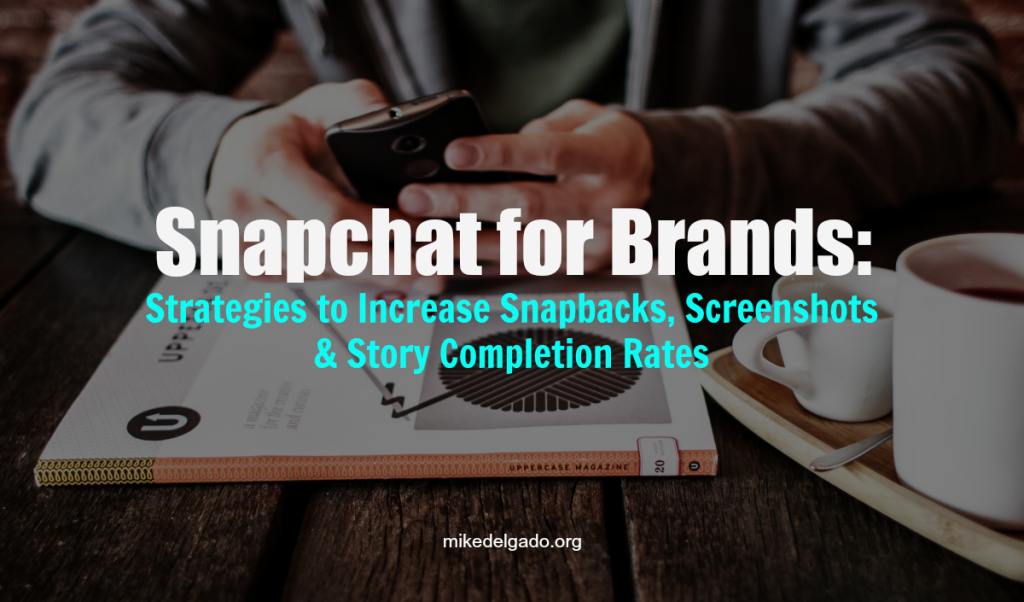 Many brands are struggling to figure out how to use Snapchat (and how to determine success).
Unlike other social channels, you don't get "likes" or "shares" — so the only measure of engagement success is snapbacks (replies), screenshot rates (likes), views, story completion rates, and follower growth.
Here are 10 ways to drive more engagement on Snapchat:

 1. Snap back to everyone who follows your Snapchat account
One of the simplest ways to drive engagement right away (and build relationships) is to snap back to everyone who follows your brand's account. 
Snap a "thank you" picture, quick video, or text over a note with a fun emoji to thank them for following.
It's helpful to not only thank the person, but also to ask questions to learn more about the person. Consider asking questions like:
Thank you for following us. What type of content are you interested in seeing from us?

[Thank You Emoji] Thanks for following. How did you hear about our Snapchat account?
The goals for these initial discussions is to let your followers know that you care what they think. You want to be a brand that stands out by being the first to snap back.
You can also learn some valuable insights (e.g. what type of content you should snap about, what promotional efforts is driving the most awareness for your snapchat channel, etc.)
Once they interact with you,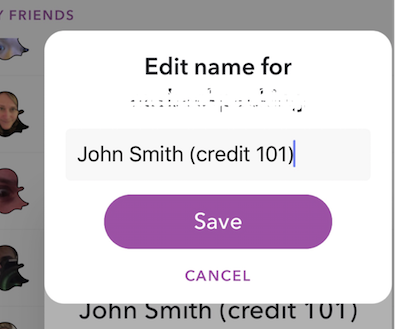 edit their name to let you know they snapped with you.
Make a note next to their name (or add an emoji) to remind you of what content they are interested in. This way you can be intentional about snapping that type of content directly with them in the future.
For consistency, I like to add key topics in parenthesis next to names (and sometimes emojis).
2. Tell stories your target audience cares about (and ask questions)
As with any social channel, social engagement on your content will depend on how interesting and/or useful your content is.
Use your other social channels as a barometer for what type of content has interested your audience most. What headlines were successful on Twitter? What visuals performed well on Instagram? What YouTube videos earned the most engagement?
Steal your best content from other social channels and turn them into snap stories. Be creative in how you share that info and make it fun, timely, and helpful. During the NBA Finals, we talked about lessons basketball teaches us about budgeting — which was a fun way to discuss an important money discussion on a basketball court.
It's also crucial that you spend time watching snap stories from your target audience to find out what content interests them. You can learn a ton about what your audience cares about on Snapchat simply by watching their snaps for ideas.
It's also important to seed your snap stories with questions. Make sure to ask your audience questions within your stories to get their thoughts – and offer to share their responses in future snaps.
3. Watch your target audience's snaps and snap back to them
Building engagement on Snapchat takes time. This means you need to be intentional about meeting new people.
Snapchat is like attending a busy party and everyone is talking with someone. In order to break through, you need to introduce yourself and get involved in listening to their story and responding. 
Make it a goal to focus on watching stories from at least 20 people a day — and sharing a thoughtful or funny response back.  The goal is to begin a relationship through snaps (just like you would do on Twitter or Facebook).
Most brands are not snapping back to other people's stories — so your brand can stand out by doing this.  The other benefit of watching your target audience's snaps is that you'll learn more about them — and how to tell better stories.
4. Increase story completion rates by creating full stories in airplane mode.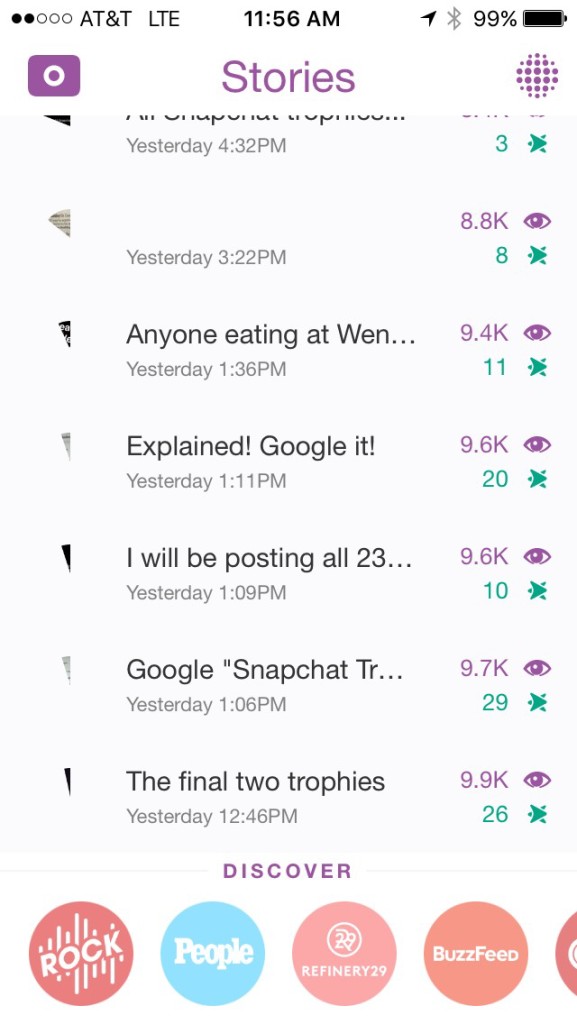 The benefit of autoplay is that you get a lift in views, but telling creative stories takes time (adding text, filters, emojis, etc.), so it's easy to lose your audience immediately if you're not snapping fast.
One way to get around this is by creating a short snap story in airplane mode.
This will allow you to take your time creating your story — and then when you're ready — you can publish all your snaps quickly when you get back online. This hack can help you increase view counts across your entire story.
Keep track of what percentage of your audience is following your entire story so you can create story completion rate benchmarks for yourself. The Huffington Post says that 60% of their audience completes their Snapchat stories — which is one benchmark you can shoot for.
5. Hook your target audience with your first few snaps
Ever since the new autoplay update, brands are seeing a 2% lift in story starts, but a quick decline when people realize their friend's story is over. This means your initial snaps are key to hooking viewers with fun and creative introductions (which don't need to be long).
Experiment with shorter snaps in the beginning to tease your audience into watching more. It's not just about getting more snap views, but also sharing interesting content they will care about and earning screenshots or snap backs along the way.
Study your snap view rates to see where the drop offs are. There will always be a higher number of views on the first snap due to autoplay, but if you're able to keep view counts up across the full story you're doing really good. Make sure to track what stories kept the view counts fairly consistent to figure out what might have kept your audience's interest.
6. Tell more shorter stories throughout the day to increase visibility (and stay top of mind)
The key to driving more visibility and moving your brand to the top of the story feed is to publish more often.
Instead of putting all your effort into telling one long story per day, focus on telling several shorter stories all throughout the day.
Publishing throughout the day not only gives your brand more visibility, but you'll figure out what times and days are giving you more engagement rates. Take notes of times of day and days of week when you're getting the most visibility.
It's crucial that you study view counts and engagement metrics daily so that you can learn when is the best time to publish your best stories.
7. Publish snap stories on the weekend (when most brands don't)
If you want to dominate your competition on Snapchat — and increase view counts — you need to snap on the weekend.
However, most employees aren't working on Saturdays and Sundays so that's why you can create your weekend snaps in airplane mode on Friday afternoon.  Then, on Saturday and Sunday, you can manually publish one or two snap stories you've already created. It's a simple hack to get around needing to create stories on the weekend.
That said, you don't need to snap every day. Most brands are snapping about twice per week – but that means you can definitely stand out (and stay top of mind by snapping more often).
8. Make it easy to engage with you through screenshots (and offer benefits for sharing their thoughts with you)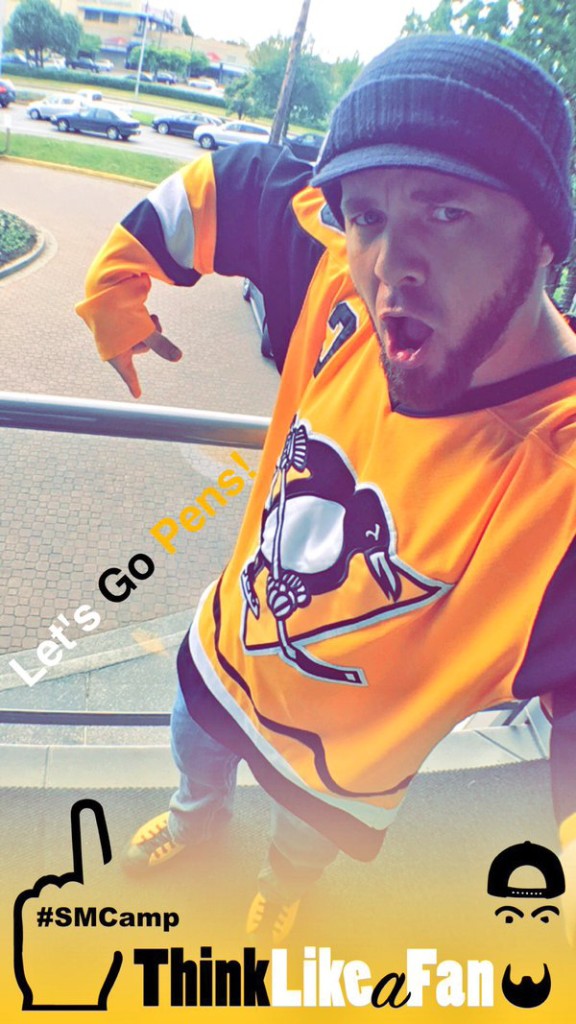 Ask your audience what they think about a certain topic — and make it super easy to answer you. You can do this by encouraging your followers to screenshot their responses to you.
Ask a question and show a snap that says something like "YAAAAS" and then another snap that says "NO WAY."  Screenshot responses are a simple way to get feedback — rather than asking for a written or video response back.
You can also incentivize responses by promising to share the best feedback from your audience in future snaps.
This not only will drive more responses, but will drive view of your next stories as you plan on sharing some of the fun feedback you get back.
One of my friends Brian Fanzo (who is brilliant on Snapchat so follow him)  has run contests at conferences asking people to screenshot something with his geofilter and then tweet it back to him. This is a killer way to not only earn snaps on your geofilter, but get it promoted on Twitter.
9. Tell your audience when to get ready to screenshot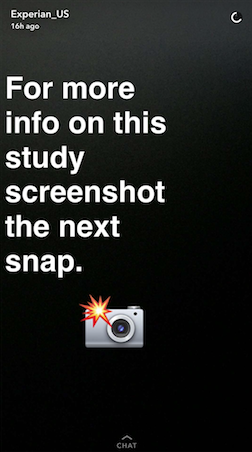 It's not enough to simply share a URL on your screen and hope your audience will screenshot it.  They might not be ready to screenshot, so alert them ahead of time that you're about to share an important message (or URL) on the next snap.
This tactic will drive more screenshots because your viewers will be ready to take action.  Just make sure the snap is worthy of a screenshot (with a clear URL and fun imagery).
Screenshots are sort of like Snapchat likes so take notes of how many screenshots you get per day.
Set a goal to get a certain number of screenshots every week.
10. Make it easy for everyone to chat with you by allowing everyone to contact you.
Lastly — and one of the most important ways to drive engagement — is to allow everyone to contact you.
You need to go into your Snapchat settings and switch the "Contact Me" category to "Everyone." This allows anyone can send you a message after viewing your snaps — whether or not you followed them back.
This means your customers or people who need to get a hold of you can snap a message without you following them back. The drawback is that turning this on means anyone can send you snaps, which can be a problem if you start receiving inappropriate or vulgar content as your Snapchat following grows.
Initially, when launching a new account, it's helpful to have this turned on so that your customers or potential customers can reach out to you easily.
Make sure the people involved in your Snapchat campaign are aware of the potential problems that could happen by allowing anyone to snap back and report problems immediately — especially harassing messages.
It's a good idea for managers to alert your Human Resources team if employees are getting harassed or receiving inappropriate content. 
Another decision your brand needs to make is whether or not to follow everyone back. This is an important decision your business needs to make (and every business will approach this differently).
In my opinion, if you're first starting an account, you should follow everyone back and only unfollow if the content is not appropriate.
As you gain popularity, you can decide on whether you'll continue following everyone back. That said, letting everyone contact you is important for a brand if you're using Snapchat as a customer service channel (which is totally appropriate).
How are you building engagement on Snapchat? Let me know in the comments or snap me back: mikepdelgado
Recommended Reading:
Snapchat for Brands: Strategic Ways to Grow Your Snapchat Following
Snapchat for Brands: Steps to Increase Snap View and Story Completion Rates
Snapchat for Brands: Focus on Building Relationships Through Private Snaps
Strategic Guide for Measuring Success on Snapchat
Snapchat for Brands: Steps to Creating Storyboards to Improve Your Snap Stories
Snapchat Stories: How Financial Companies Are Building Their Brands with Snaps
Strategies for Using Snapchat Memories to Build Community, Scale Snap Activity, and Improve Branding