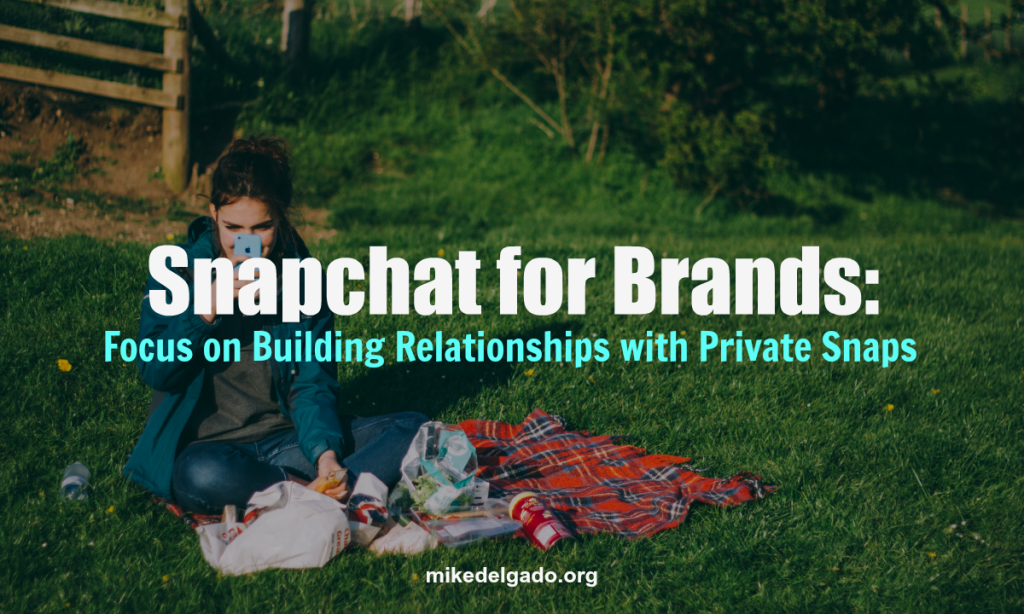 Does your brand want to improve view counts and engagement on Snapchat?
The first step to building a thriving fan base on Snapchat is to focus on engaging with others. This means watching other people's snaps — and snapping back with relevant comments, emojis and/or questions.
Brands need to be intentional about starting a conversation with their target audience in order to earn attention. And this will be more important as ever as the Snapchat algorithm begins to reduce brand visibility (similar to Facebook).
The mistake many brands make is they snap a story and leave (only to return to count views, screenshots, and reply to snaps). That strategy could work if you're a huge brand with tons of adoring fans — but most brands don't have that kind of fan base on Snapchat. Starting a community means initiating a conversation — and this is easy to do through private snaps. It just takes time.
Private snaps are the foundation for how Snapchat started — and it's still the key way close friends communicate on this platform.
In a Snapchat study at the University of Bath, researchers found that most snaps are happening between close friends: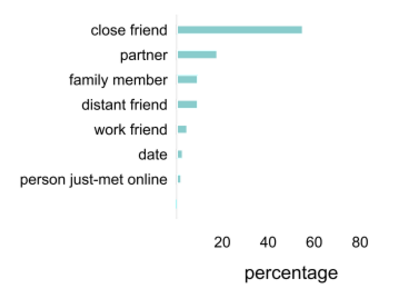 The fact that brands were not even mentioned in this study is a problem because it means that most brands are not having conversations with fans. This means there is a huge opportunity for brands to stand out by sending snaps to fans in an effort to become "snapworthy."
According to this study, most people on Snapchat interact with no more than 12 people on a regular basis. Most people are not inundated with snaps, so this also reveals opportunities for brands to get seen and break into these friendship circles.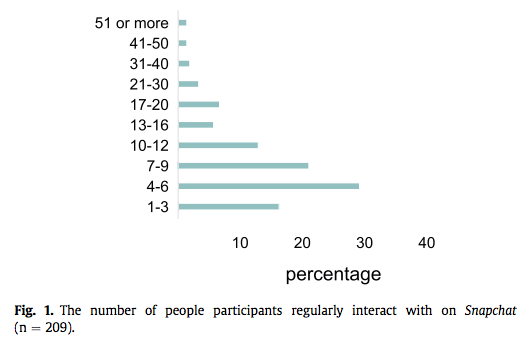 In another Snapchat study at Roskilde University in Denmark, researchers found that most people rarely create public stories — and prefer snapping directly with friends.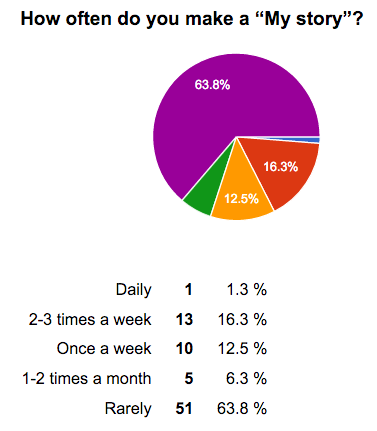 Even though there isn't enough data to make accurate predictions, the theory that most people are snapping between friends (vs creating public stories) is probably accurate since Snapchat is a messaging app at its core. We just need more data to confirm "my story" activity.
Engagement on Snapchat is happening mostly between friends — and brands that want to want to earn engagement need to start acting like a friend, too.
The business benefits of snapping with fans include:
Brands that snap with fans can build their reputation and trust by being friendly, open and transparent in conversations

Brands that snap with fans can learn a ton about what content is resonating with their target audience

Brands that snap with fans means potential customer problems can be addressed quickly before the problem is posted publicly on another social channel

Brands that snap with fans means that you can develop snap focus groups to get their thoughts about new content and ideas you'd like to test out

Brands that snap with fans will learn a lot about the style and format of snaps from their target audience and how to best address them
Here are a few ways to build a realistic direct messaging strategy for your business:
1. Add back those that follow your brand
The first step to making it easy for your followers to engage with you is to follow them all back. You might not be able to do this once your account grows to a certain size, but initially you should add everyone back so that they can easily snap back to you when watching your stories. If you start receiving spam or inappropriate content, then you can block them.
2. Allow anyone to snap you a message

To increase engagement means that you allow everyone to contact you. So even if your business decides not to follow everyone back, you can at least allow anyone to snap you. To me, this should be a default setting for every brand.
After all, you might have a customer or potential customer trying to get a hold of you. Only by allowing everyone to contact you will you be able to see those important messages from those that need help. To open up all communication on Snapchat, make sure to select "Everyone" under "Contact Me" in your Snapchat settings.
3. Snap a "thank you" to everyone that follows you
Some brands might decide not to follow everyone back — and that's okay. However, every brand should thank new followers with a quick "thank you" snap. It takes seconds to thank people on Snapchat. Most brands are not doing this — so your brand can easily stand out as a friendly and personable brand with a quick note back.
4. Ask new followers strategic questions to find answers to important business questions
Ask new followers how they heard about your Snapchat account — or ask followers what type of content they would like to see from you. Every new follower can become part of your Snapchat focus group, so be strategic about questions you ask them. 
You need to be intentional about doing this — and set a goal to snap with a certain number of people a day. As you can see, finding out type of content and how they heard about your brand can empower you to make better decisions on how to promote your snapcode — and type of content to produce.
5. Snap to your fans during times when they are most likely to snap you back quickly.
As you being to learn more about your target audience, you'll find out times they are most likely to watch your snaps — and also when they are more likely to snap back. In the Snapchat study at the University of Bath, most people were snapping with close friends at noon and evening.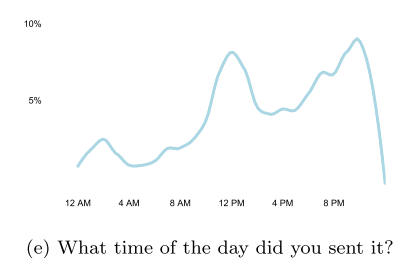 This might not be the most engaging moments for your target audience, but as you snap (take note at response times) to learn if there are certain periods of the day when your audience is faster to respond.
6. Build a list of key people your brand wants to engage with regularly
Unfortunately, you can't communicate daily with each follower as your account grows — but you can focus on engaging with a key group of people that are important to your business goals. Add a specific emoji next to their name to easily identify their snaps as they appear. 
Create a list of 100 people that you want to stay in contact with through weekly or biweekly snaps. This means watching their stories and sending a thoughtful snap back. Not everyone will be snapping regularly so that's why the list should be around 100 so that you can focus on snapping with 10 per day (50 per week). That is a realistic number that will not take too much time.
7. Measure snapback activity month-over-month to track success rates on engagement
Sure, tracking view counts, story completion rates, screenshot rates, are important to gauge success — but snapbacks from your fans are just as (if not more) important because that takes more time and effort. Your goal is to increase snapbacks from your followers every month.
The trouble with this private message strategy is that you can find tons of excuses for not implementing:
We don't have time to do this
This is time-consuming
We can't scale this effort
This is not sustainable
We don't have enough reach on this channel yet
These are all legitimate reasons to avoid implementing a snapback strategy for your business. That said, if Snapchat is going to be an important channel for your business, you need to build a practical strategy on how you plan to engage with your community there.
Engagement is key on whatever social channel your business spends time on — and snapbacks are how you build relationships on Snapchat.
So how are you building relationships on Snapchat? Let me know in the comments or snap me at: mikepdelgado
Recommended Reading:
Snapchat for Brands: Strategic Ways to Grow Your Snapchat Following
Strategic Guide for Measuring Success on Snapchat
Snapchat for Brands: How to Increase Snapbacks, Screenshots & Story Completion Rates
Snapchat for Brands: Steps to Increase Snap View and Story Completion Rates
Snapchat for Brands: Steps to Creating Storyboards to Improve Your Snap Stories
Strategies for Using Snapchat Memories to Build Community, Scale Snap Activity, and Improve Branding
Snapchat Stories: How Financial Companies Are Building Their Brands with Snaps