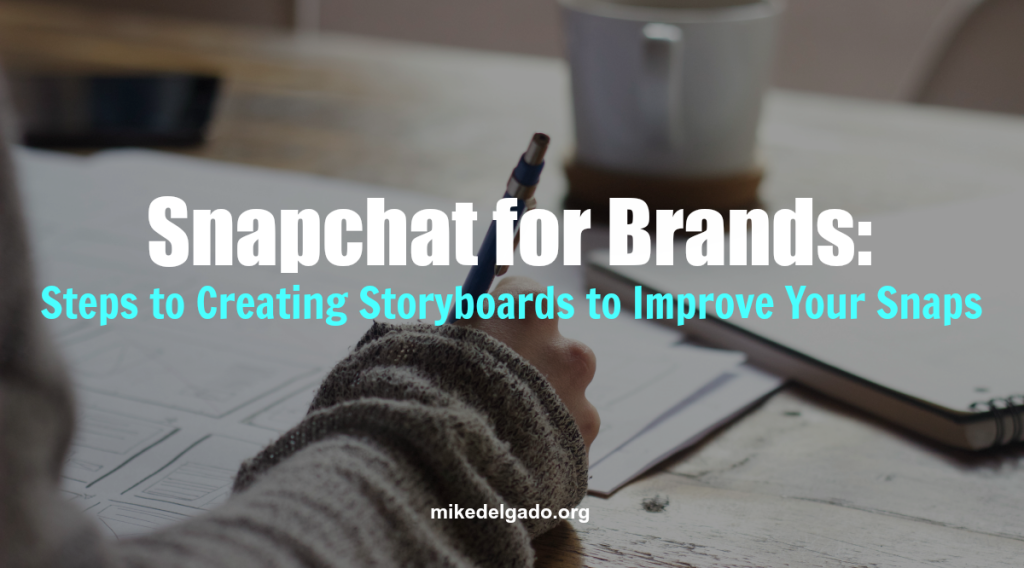 One of the best ways for brands to tell better stories on Snapchat is to plan ahead with a storyboard.
Some benefits of storyboarding your snaps:
Storyboarding helps you prepare everything you'll need in advance (e.g. batteries, tripods, lenses, stylus, props, external microphones, music)

Storyboarding is helpful for brands in highly-regulated industries because story and text can get approved by compliance and legal teams

A storyboard can help you communicate your snap story to your team and senior leaders before an event

Storyboarding saves you time because you know in advance what text, filters, lenses, or emojis you'll use

Storyboarding can help you plan out potential stories to tell at events, which is helpful when you're too busy (or feeling less creative)

Storyboarding can help employees who are not comfortable on Snapchat and need direction
Obviously, you don't need to storyboard every snap story — but storyboarding can be very helpful for times when you want to tell a really good story.
Here are some simple steps to help you start storyboarding:
1. Create a storyboard template to help you frame each snap.
I've developed a few different storyboard templates — and prefer storyboards that are large enough to draw in. In my storyboards, each snap frame has three icons on the bottom right to make it easy to select whether the snap is a photo, graphic, or video.  Once the media is circled, you can then draw what should appear in the snap.
Write out the text, draw emoji, explain action, or draw it all out. If it's a photo, you can also include the time you want the snap to appear. In a previous template, I include a time stamp to easily select time for photos, but removed it in later editions because it's easier just to write it out if needed.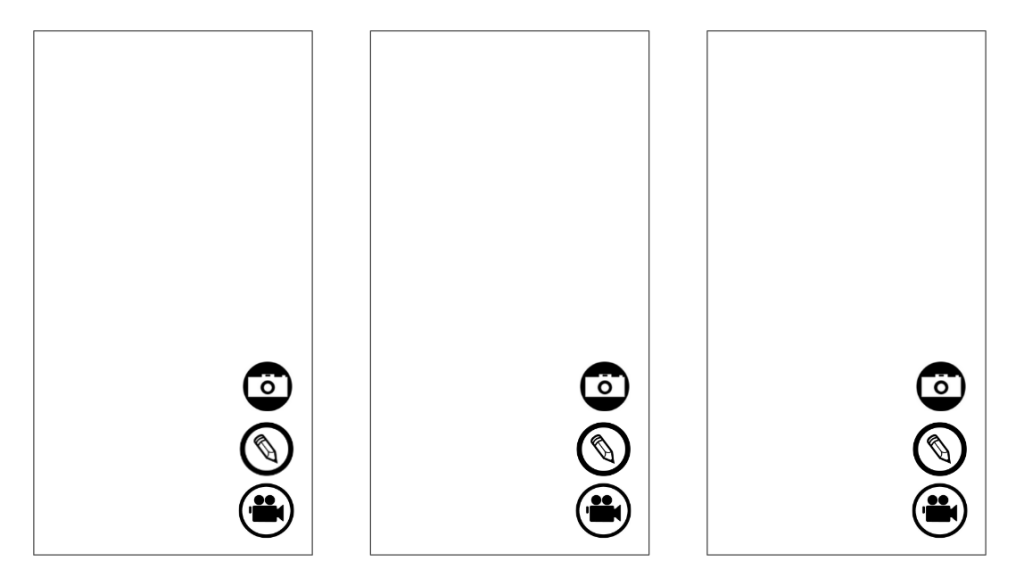 I created another Snapchat storyboard for stories that don't' require as much detail. This type of storyboard is useful for people who don't need much direction, but just want to plan out things to talk about. The storyboard below is helpful for sharing a high-level view of a snap story with your team or leaders.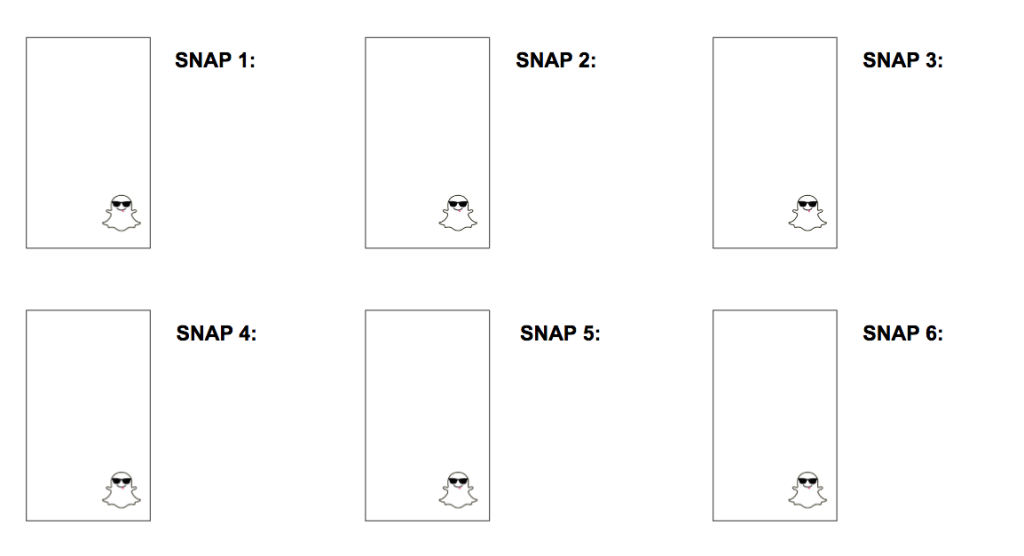 You can use templates like the ones above or simply write everything out in text form. Do whatever works best for you.
2. Create a storyboard template to schedule out your entire week
Another benefit of storyboarding is that you can plan out snaps for the entire week so that you're always prepared for the types of stories you're going to tell. Scheduling out snap stories ahead of time is helpful for those days you don't feel as inspired.
This is a also a killer way to help you coordinate who will be taking over your Snapchat account.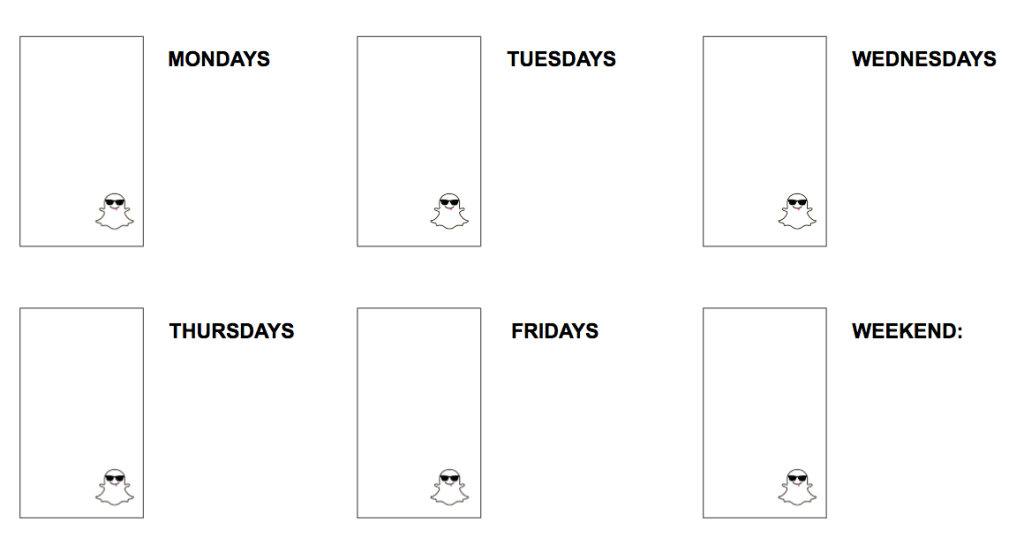 3. Create storyboards that provides you freedom to add new snaps in the moment
Snapchat should be treated like a live-streaming platform – which means your stories don't need to be polished. Focus on being authentic — not perfect. This is why your storyboards should provide you freedom to do things in the moment (e.g. snap a mistake, or feature something unplanned, interview someone randomly, etc.).
Storyboards are merely a guide to help you tell stories, not a script that needs to be followed exactly. The detail in how you create storyboards will vary based on who you are creating it for. If you are creating a storyboard for someone new to Snapchat, they will need more direction and will probably want an exact script. If you're creating a storyboard for a seasoned snapchatter, then you can sketch out rough ideas on what she or he can do.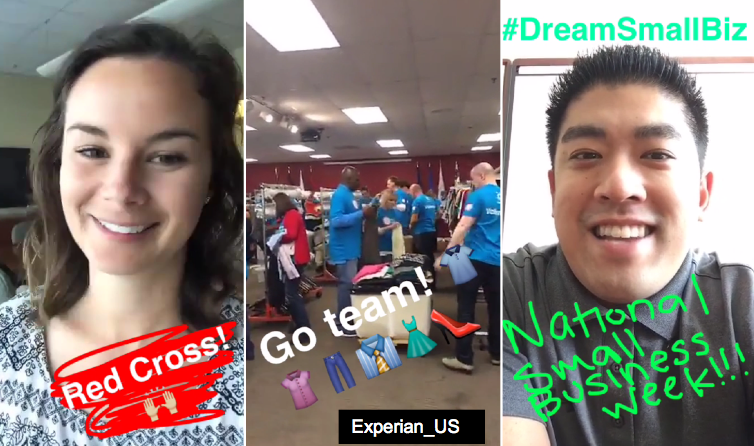 4. Create snap storyboards that will help you highlight key moments in a fun and concise way.
If someone is taking the time to watch your snap, make sure to communicate your key thoughts (or share key moments) in a fun and concise way. You don't want to bore your audience with dozens of random snaps (which might lead to them just tapping through it).
Most brands are only sharing 26 snaps per week (and only snapping twice per week). This means an average story for brands runs about 13 snaps. Don't mimic other brand story lengths just because that's what they do. Your snap story length should be determined by you (and how long you think it deserves to be). Your story could be 5 snaps — or 25 snaps.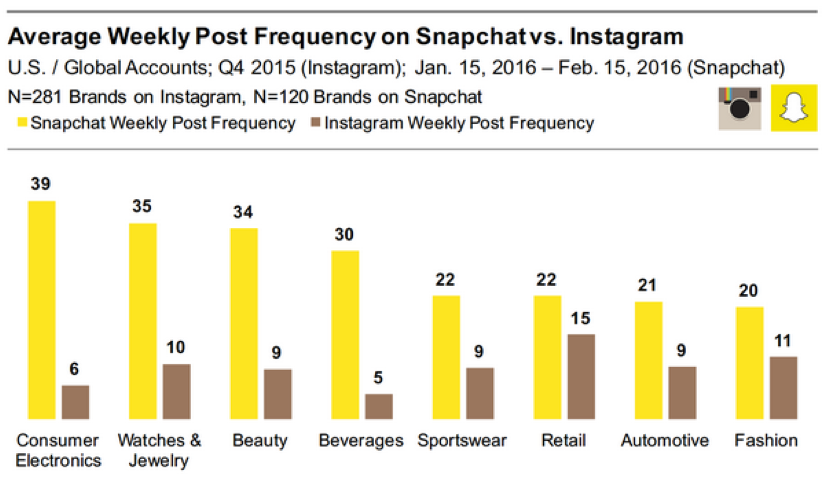 5. Create snap storyboards that provide an intro, key points or shots to feature, questions to ask, and an outro
Okay, so let's get tactical and let me show you an example of how a storyboard might look for your brand attending an upcoming conference. The storyboard can be mapped out like below with just general direction on how a story can get played out: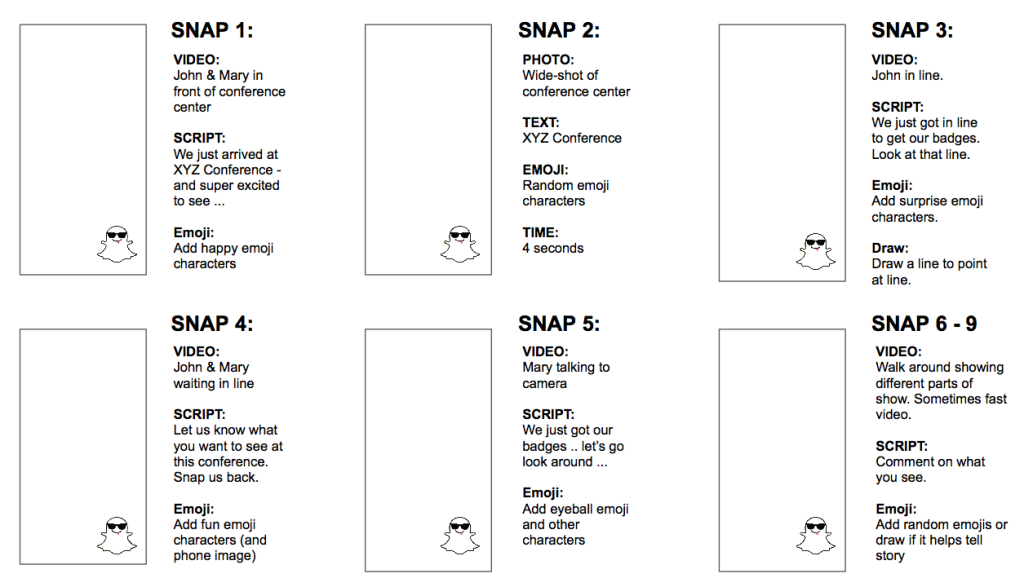 Notice that the script is open-ended, which allows the employees to add their own comments along the way. Again, please remember that storyboards are merely there to help tell a story (and may not be necessary if you have an experienced and creative team). Don't get offended if your Snapchat storytellers take a turn to share something unplanned because it's their job to share their unique experiences along the way.
6. Make sure your storyboard plan also includes equipment your team might need to help with telling a story.
The benefit of storyboarding ahead of time is that you can plan for everything you'll need to tell your story. Your team might want a tripod, stylus, external microphone, remote to record snaps without holding down the red record button, wide-angle and/or telephoto lens, lights, and extra batteries.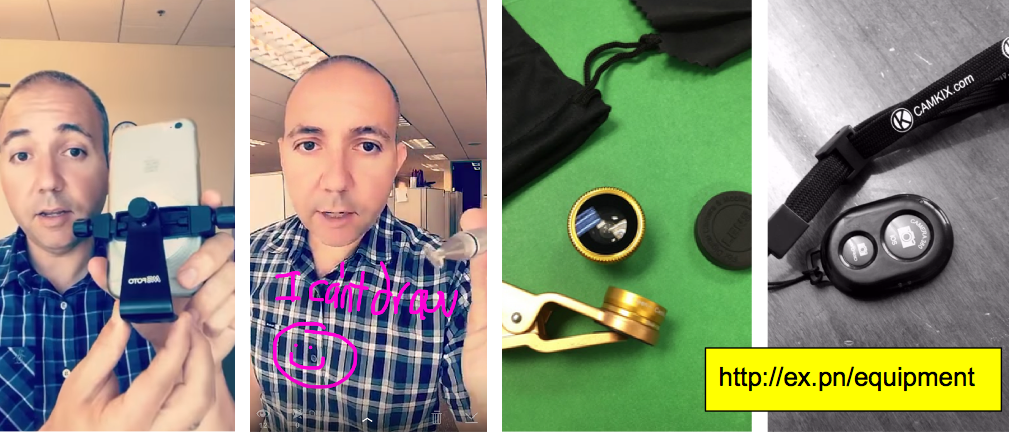 I'll cover the Snapchat equipment you'll need in an upcoming article.
Do you storyboard? I'd love to know your tips. Let me know in the comments or snap me back: mikepdelgado
Recommending Reading:
Snapchat for Brands: Strategic Ways to Grow Your Snapchat Following
Snapchat for Brands: How to Increase Snapbacks, Screenshots & Story Completion Rates
Strategic Guide for Measuring Success on Snapchat
Snapchat for Brands: Steps to Increase Snap View and Story Completion Rates
Snapchat for Brands: Focus on Building Relationships Through Private Snaps
Snapchat Stories: How Financial Companies Are Building Their Brands with Snaps
Strategies for Using Snapchat Memories to Build Community, Scale Snap Activity, and Improve Branding