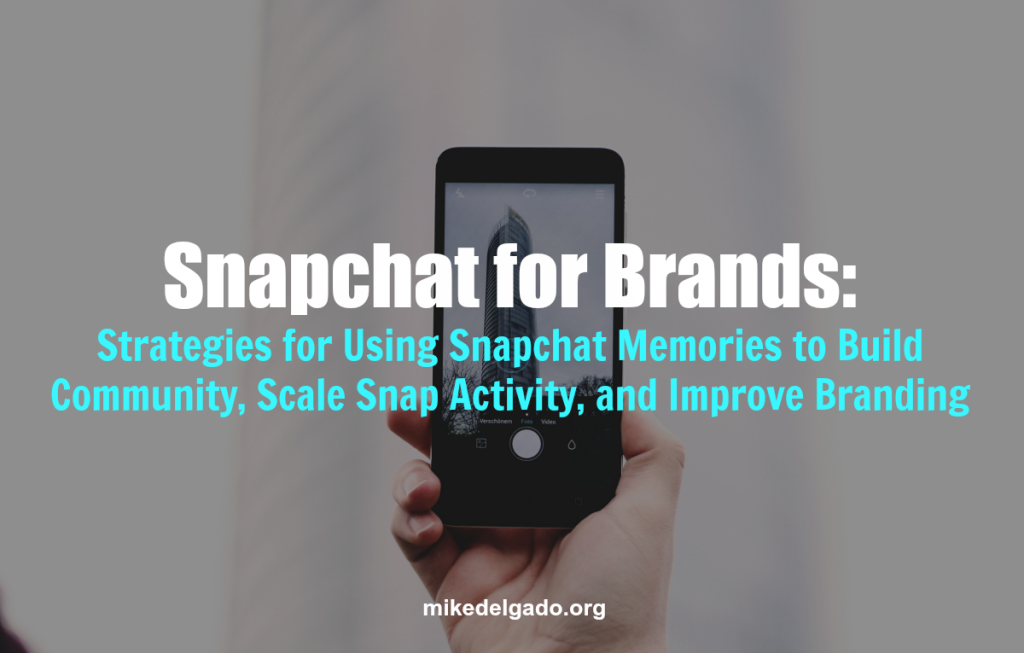 The announcement that anyone can now upload photos and videos from your phone's camera roll might annoy some (who prefer the organic feel of Snapchat) — but could be a huge benefit for brands who have strict rules around content and needing various types of approvals before posting.
Personally, I like the organic nature of Snapchat — and hope Snapchat Memories won't be abused. I'd hate to see Snapchat become streams of enhanced images and videos (a la Instagram).
Snapchat Memories should not replace your brand's in-the-moment snap strategy — only enhance it.
Here are 5 ways brands can leverage memories:
1. Brands can increase snap activity on holidays, weekends, and when employees are not working with Snapchat Memories.
One of the difficulties for brands on Snapchat is that most snaps occur during working hours — and so you rarely see brands snapping on weekends, holidays, or after hours. However, with Snapchat "Memories," brands could create a string of snaps (or even a full video story) to upload easily after hours.
This approach is not ideal for brands that want to stay raw and in-the-moment on Snapchat, but could help brands get more visibility when employees are not working. No matter what, Snapchat "Memories" will increase snap volume from brands simply because content can be made in advanced.
2. Snapchat Memories will help brands increase snap interaction (and build community) because it's easy to upload their snaps to your main story.
Instead of simply asking for snapbacks to questions, brands can incentivize fans to answer questions telling them their snap could be chosen to be featured in the brand's snap story. For this strategy to work, fans would need to submit a photo with their comment or question typed out (since there isn't a way to download snap videos submitted yet).
Snapchat Memories will also allow brands to easily show snaps from favorite people in their community. You can highlight advice and tips from your community easily by taking a screenshot of their snaps and highlighting on your story.
3. Brands in highly-regulated industries can get snap stories approved in advanced before publishing with Snapchat Memories.
Brands that have been hesitant about joining Snapchat because of compliance and regulatory rules will find it easier to join now. You see, Snapchat Memories allows you to create your story content in advance (get reviewed) and then snapped live once approved.
Personally, I prefer that the majority of content from a brand is snapped in-the-moment (because that is the foundation for what Snapchat is about), but for those brands that have been unable to join because of compliance rules — this is their chance.
4. Companies concerned with branding can ensure that colors, fonts, imagery, and logo usage is approved before snaps get published with Snapchat Memories.
Another huge benefit for Snapchat Memories is that every part of a snap can look exactly how you want. You can take a photo and use editing software to add a logo, colors, specific fonts (and whatever other branding guidelines you have) and then upload each of those snaps back on your phone's camera roll for publishing.
The problem with this method (aside from the time to edit each snap) is that you will lose the raw and in-the-moment nature of snaps. Overly edited snaps will not look native to the platform — and that could cause you to lose attention because your snaps will seem more commercialized. Brands that want to edit every snap for branding purposes should be cautious and test results. Keep track of your story completion rates to see how branding impacts story completion rates and engagement.
5. Snapchat Memories allows brands to create  "Welcome" snap stories that can be easily shared out to all new followers
One of the difficulties for brands on Snapchat is trying to scale — and reach more people with custom content. Well, Snapchat Memories will allow brands to create "Welcome" stories in advance to quickly upload to everyone who follows. This is the approach that "Team Snapchat" takes when announcing new features and sending out messages.
Brands should create several "Welcome" stories that quickly thanks them for following, introduces what content you share, and invite feedback. Test different "Welcome" stories to find out which ones receive the most snapbacks.
Be creative and make special "Welcome" stories for holidays, seasons, and custom ones for specific occasions. There is no reason why you can't engage with every new follower now. That said, whenever possible send custom snaps to welcome each person individually since (at the core), Snapchat is a messaging app and personalized snaps are going to be more effective.
There are plenty of more ways that Snapchat Memories can be leveraged by brands — and I'll be writing more about this in the coming months.
Personally, I don't want to see this abused by brands (and only see edited content by them). Snapchat Memories should mainly be used to enhance your efforts to build community — not hurt it.
So how do you plan on using Snapchat Memories? Let me know in the comments or snap me at: mikepdelgado
Recommended Reading:
Snapchat for Brands: Strategic Ways to Grow Your Snapchat Following
Snapchat for Brands: How to Increase Snapbacks, Screenshots & Story Completion Rates
Snapchat for Brands: Focus on Building Relationships through Private Snaps 
Snapchat for Brands: Steps to Increase Snap View and Story Completion Rates
Strategic Guide for Measuring Success on Snapchat
Snapchat for Brands: Steps to Creating Storyboards to Improve Your Snap Stories
Snapchat Stories: How Financial Companies Are Building Their Brands with Snaps