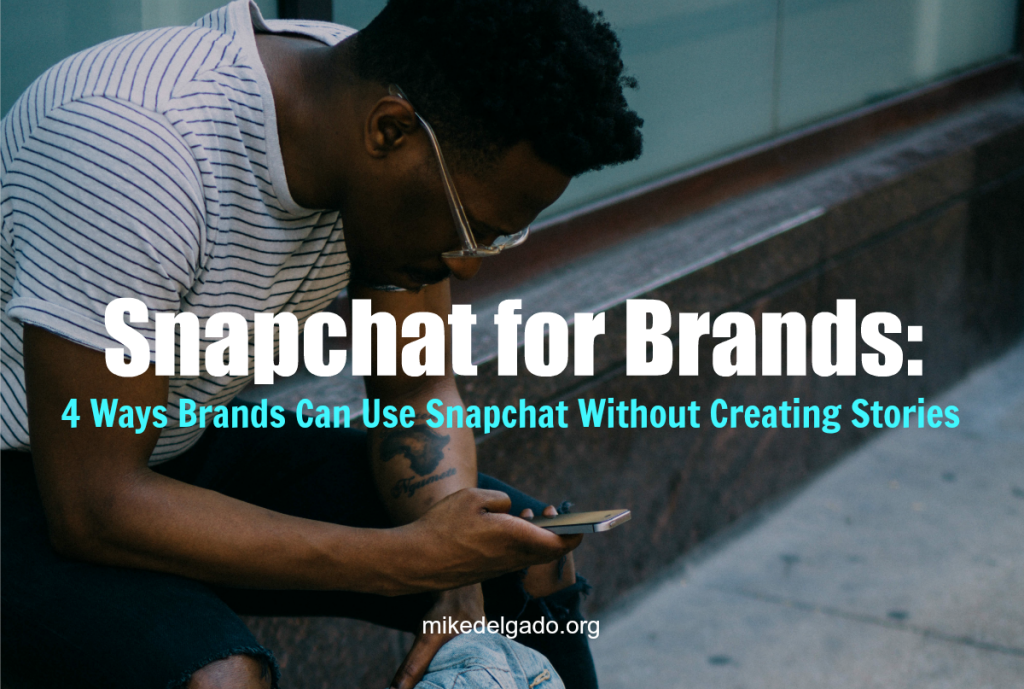 Many brands are struggling to find value in using Snapchat.
After all, it takes time to create stories (which quickly disappear after 24 hours) — and it's difficult to grow a following.
That said, if your target audience is on Snapchat (and you don't have time to create stories), here are four simple ways to leverage Snapchat without being an active storyteller.
1. Create a Snapchat account so that your customer service team can quickly snap answers back to those who have questions or need help.
If your target audience is using Snapchat, you might want to consider creating a Snapchat account for the purpose of handling customer service issues. The benefit of using Snapchat for customer service is that you can respond through live video chats — or handle issues via text or phone calls through Snapchat.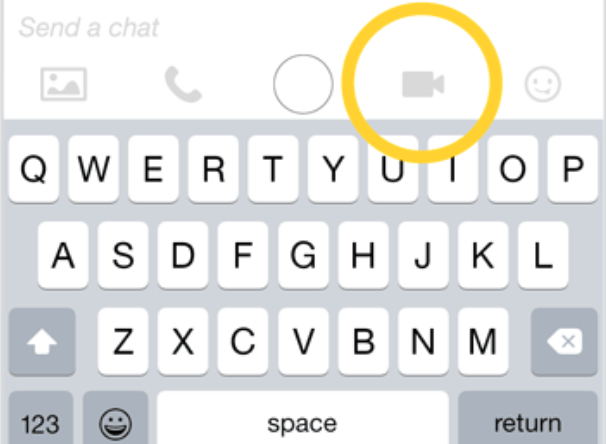 Another benefit of using Snapchat for customer support is that these snaps are private (unlike public tweets and comments on Facebook or Instagram). This can reduce the amount of public complaints you're dealing with.
2. Use Snapchat to build brand awareness by developing geofilters to target your audience at specific locations.
Simply by having a Snapchat account allows your company to set-up geofilters at areas where your target audience is spending time. Geofilters are easy to create and fairly cheap depending on the location you want to target (e.g. stadium, college campus, conference center).
In fact, Snapchat has been using geofilters for recruitment purposes to attract employees in local offices. Here are a few examples of how they are targeting employees at Uber: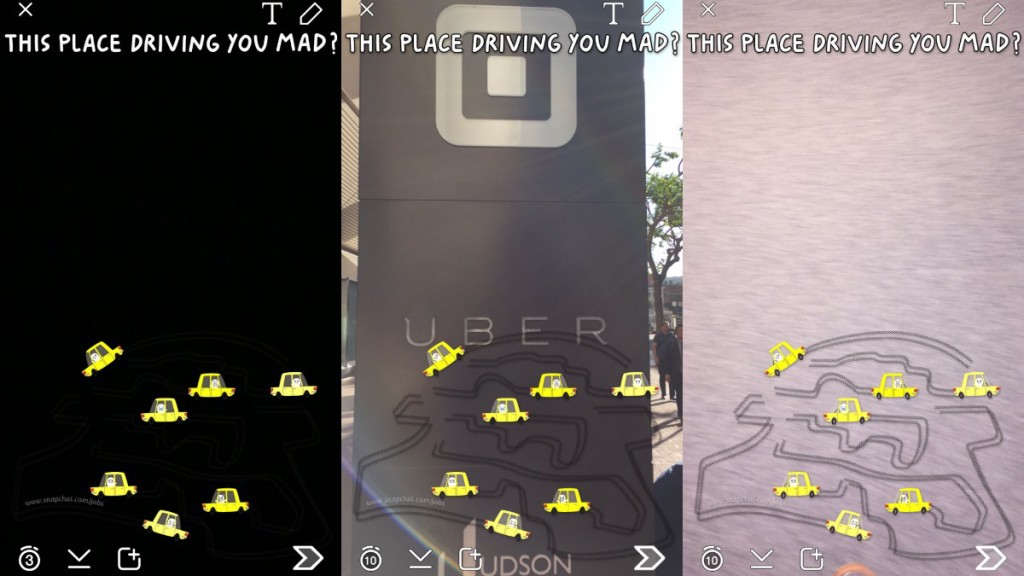 Geofilters are low-cost ways of reaching a large audience depending on the size of the location and duration. For example, I recently created a geofilter to run at a conference and it only cost $5.00 per day.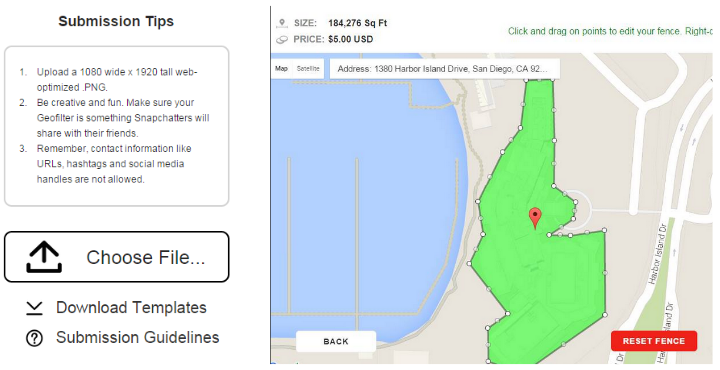 3. Use Snapchat to discover how other brands (and possibly your competitors) are using the platform to engage their target audience with augmented reality.
Innovative brands are leveraging Snapchat's animated lenses to create fun augmented reality content for their target audiences.  Even if your company doesn't have the money to invest in animated lenses, you can still benefit from watching how other brands are using this technology to reach and engage their target audiences.
Besides, Snapchat is more than a social network — it's an augmented reality camera that allows users to have fun and interact with their surroundings. The more you know how the platform is getting used, the more ideas you'll have on how to create interactive augmented reality content for your community when the time comes.
Here is an example of Taco Bell's animated lens that was viewed 224 million times in one day: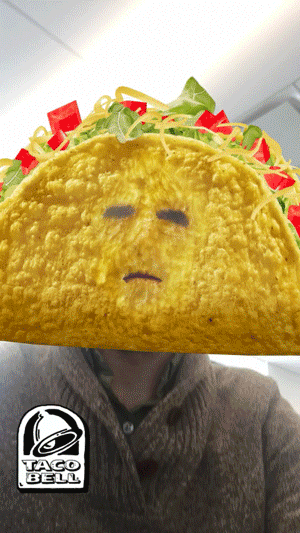 4. Use Snapchat lenses, stickers, filters, and text to create fun pictures to share on other social channels.
Snapchat allows you to create fun photos and add fun visual elements (e.g. emojis, stickers, filters, text, etc) that you can save and share out on other social profiles. At Experian, we use our Snapchat photos and stickers to spice up imagery on our other social profiles.  The other benefit of using your Snapchat photos is that builds awareness for your Snapchat account to help you grow your following.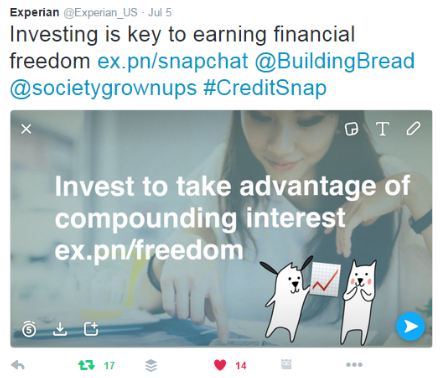 What are reasons why brands should start a Snapchat account? Let me know in the comments or snap me at: mikepdelgado
Recommended Reading:
Strategic Ways to Grow Your Snapchat Following
How to Increase Snapbacks, Screenshots & Story Completion Rates
Focus on Building Relationships through Private Snaps 
Strategic Guide for Measuring Success on Snap Stories for Brands
Steps to Increase Snap View and Story Completion Rates
Snapchat for Brands: Steps to Creating Storyboards to Improve Your Snap Stories
How Financial Companies Are Building Their Brands with Snaps
Strategies for Using Snapchat Memories to Build Community, Scale Snap Activity & Improve Branding