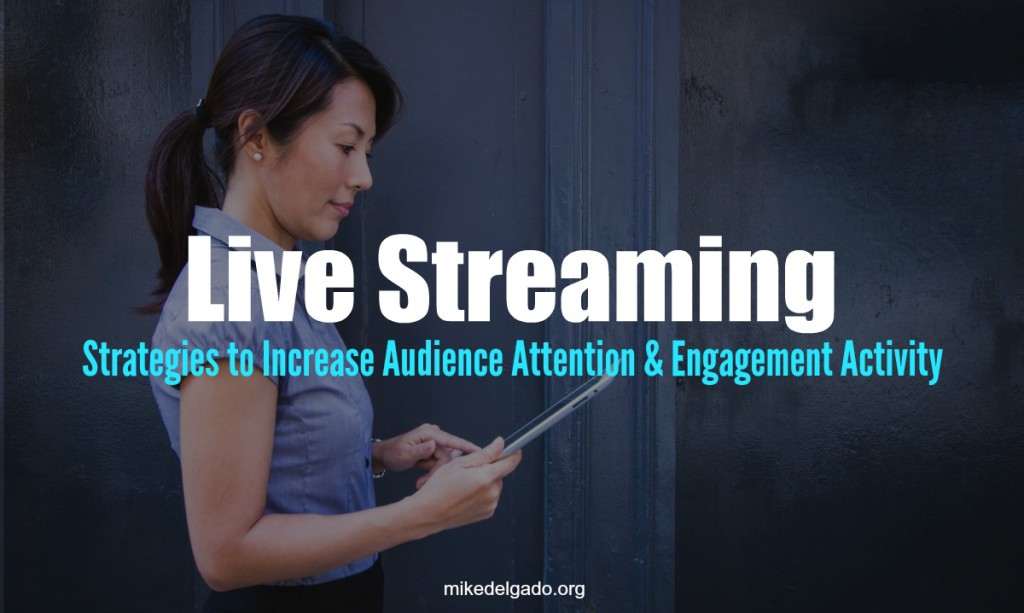 How do you develop live streaming content that will capture your audience's attention?
How do you keep viewers engaged and/or entertained so they want to spend time with you?
After all, distractions abound.
Technology is a siren that constantly pulls our attention away.
How many apps provide you notifications? How many emails do you need to read? Do you have any snaps to see? What about Facebook or Instagram updates to check out? Any phone call messages or text messages to respond to?
Some studies suggest that we have attention spans of 8.25 seconds.
With all the distractions, it's no wonder social networks enforce short time spans for video content:
Vine videos can only be 6.5 second long

Instagram videos can be 3 to 15 seconds long

Snapchat videos can be 10 seconds long
These social networks can certainly expand time limits, but the shorter clips helps people move through the stream more efficiently. And forces video creators to share informative or entertaining content in bite-sized portions.
Now, let's look at stats on recorded video engagement:
Video Engagement Loss is Highly Correlated with Length of Recorded Video
Average length watched of top 50 YouTube videos is 2 minutes, 54 seconds

Average length watched of a single internet video is 2 minutes, 7 seconds
If you're thinking about live streaming, this data might disappoint you. However, remember this data points to viewership of recorded videos – not live events.
In other studies of video viewership and engagement, we find that engagement loss is highly correlated with length of the video. 
Check out the video drop-off rate on the 60+ minute videos (red line):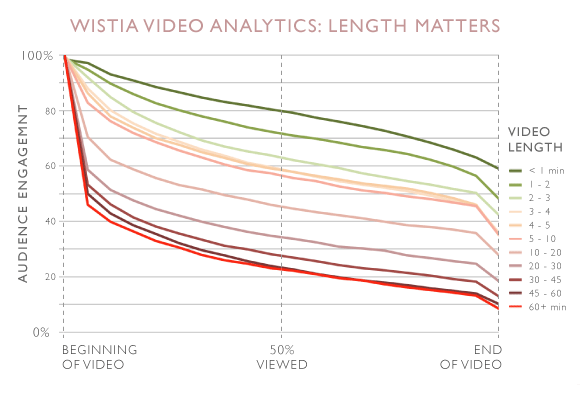 There can be many reasons why shorter videos capture attention longer – but the data points to why capturing and hold attention early is key. If you can hook your viewer's attention past the 2% mark of your video, the drop off isn't as harsh.
Actionable Tip: Make sure to focus on sharing helpful tips (and teasers of what's coming) to keep your video audience engaged during the first portion of your video.
Wistia's research also reveals that the highest drop-off for all videos in their archive is between 10 to 20 minutes in length.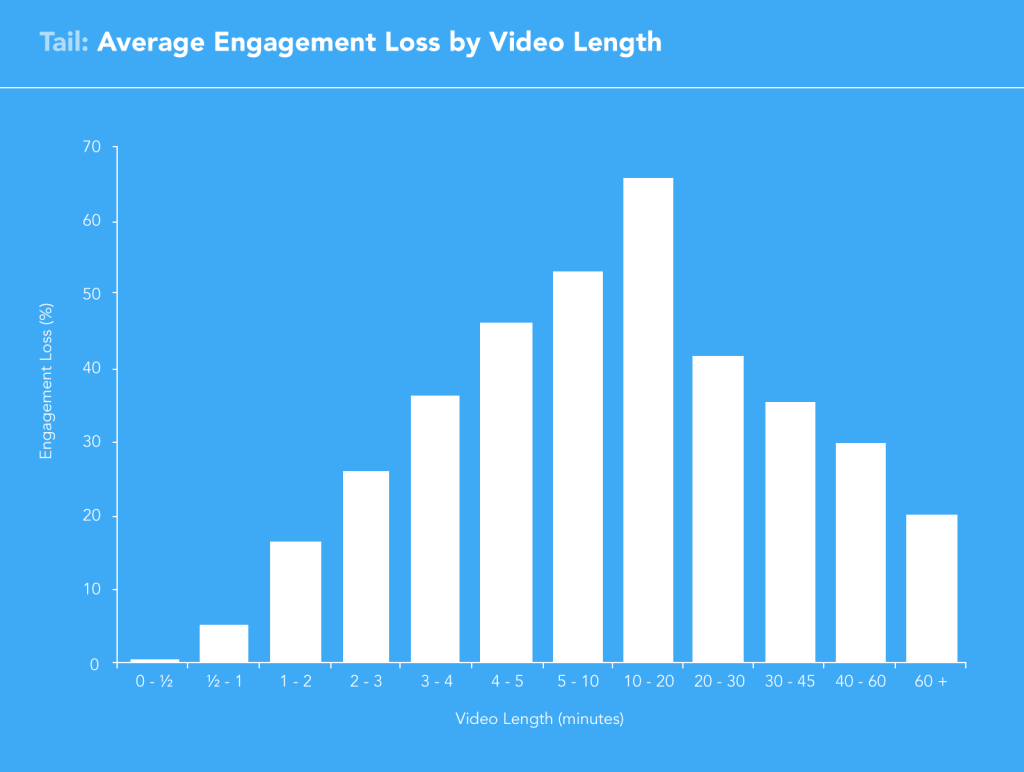 This data gives hope to those who are creating long-form video content. People do consume video for longer periods, but tend to drop off within 10 to 20 minutes.
Remember, all this data is about recorded video engagement – not live streaming.
So let's look at data about live-streaming video …
Twitch is the most popular live-streaming platform at the moment — and accounts for 43% of all live video-streaming traffic by volume. Twitch is mostly a gamer community – and that's where most live-video streaming consumption is happening.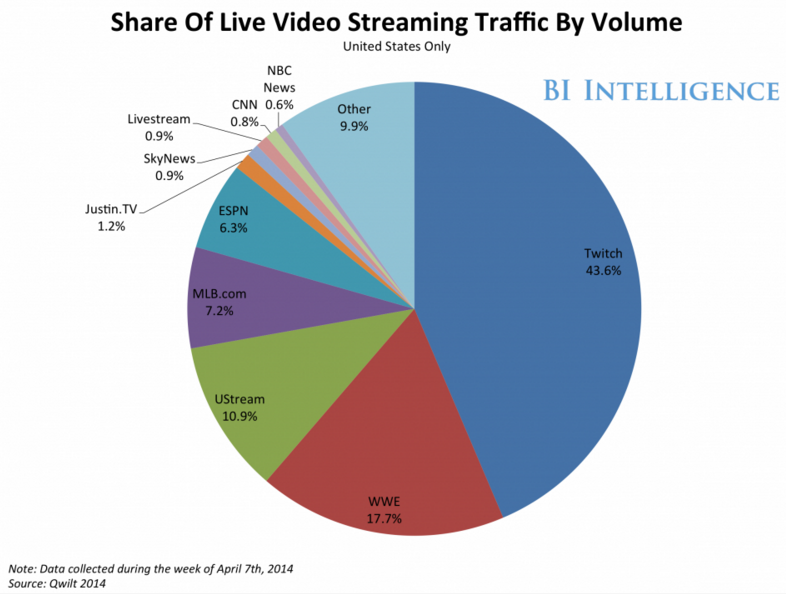 If you uncover live-streaming data, please let me know. I'd love to add to this research.
Right now, there is ample data around live-streaming webinar data which provides helpful insights on ways to better engage on our live streams.
Adobe crunched numbers on 20 thought leadership webinars conducted in 2014 with 16,558 registrants and 5,750 attendees and here is what they found:
Live Streaming Webinar Attendees Watched for 54 Minutes.
Adobe reported that viewership is impacted by how easy it is to watch the event and how interesting the topic/speaker is. This high viewership rate is due in part to people who have opted in by email to a specific topic they care about.
Just remember this is a small sample size — so make sure to check your webinar data to see how it corresponds.

Another data point is that viewership of live-streaming webinars has actually increased over the years. In the 2014 ON24 Webinar Benchmark Report, we see a progression in time spent watching live webinars. This trend counters the perception that people want shorter videos. People will stick around if the content is useful.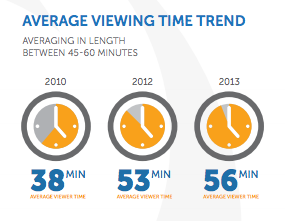 This data also reveals that live video viewership (targeted to the right community) can hold attention for close to an hour.
And for certain communities, live-streaming engagement rates can skyrocket to over 6 hours. People watching live-streaming games can watch 6 hours worth. It depends on the popularity of the player and game played.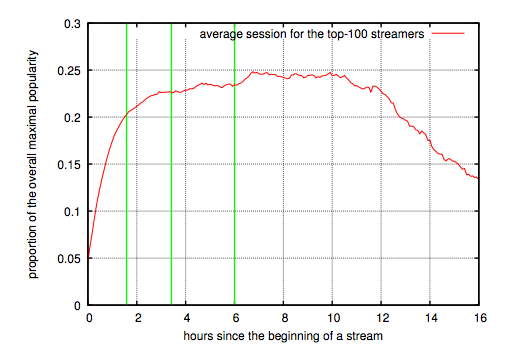 In this gaming research, after spending 6 hours and 45 minutes of streaming, the audience seems to get bored. What's also interesting is that 58% of Twitch users spend roughly 3 hours every day watching live streams.
As you can see, live streaming video engagement depends on the content and community you're serving.
So let's talk about ways to engage our live-streaming audiences better based on data we know:
1. Increase Engagement When Live Streaming By Asking Questions & Polling
In this webinar study, the biggest ways viewers engaged during webinars was with polls and open chat.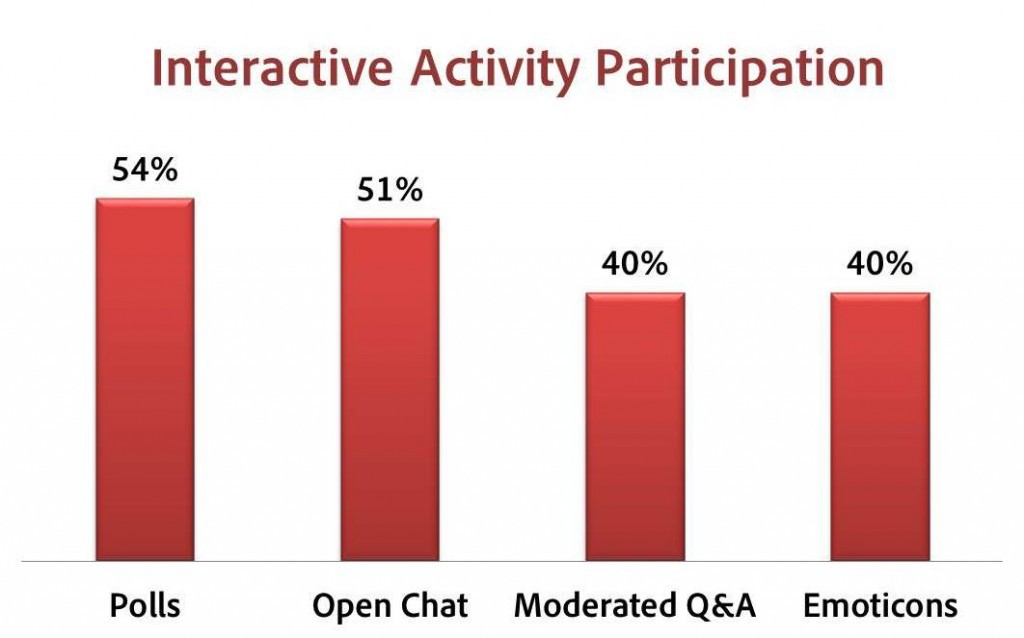 When hosting a live stream, it's crucial to keep your viewers engaged with you — and you can do this by asking them questions. Take a poll — and encourage discussion in the sidebar on Blab (or those tweeting along with a hashtag). If you can encourage discussion from viewers, you're on the way to hosting a successful live-stream.
2. Increase Engagement When Live Streaming by Participating in the Comments & Sharing Insights from the Community
One of the kings of live streaming, Brian Fanzo is a master of providing killer content as well as engaging with the viewers chiming in. There is an art and science to doing this right. You want to focus on getting your message out — while answering relevant questions to help your audience understand key points.
Brian builds engagement in live streams by not only asking questions – but also sharing the insights and questions messaged back to him. This not only builds even more engagement and sharing, but gets the community involved in the discussion.  And that's the point of live-streaming. It's not about you lecturing, it's about listening and engaging back. Make sure to follow him on Blab to learn more about moderating live events.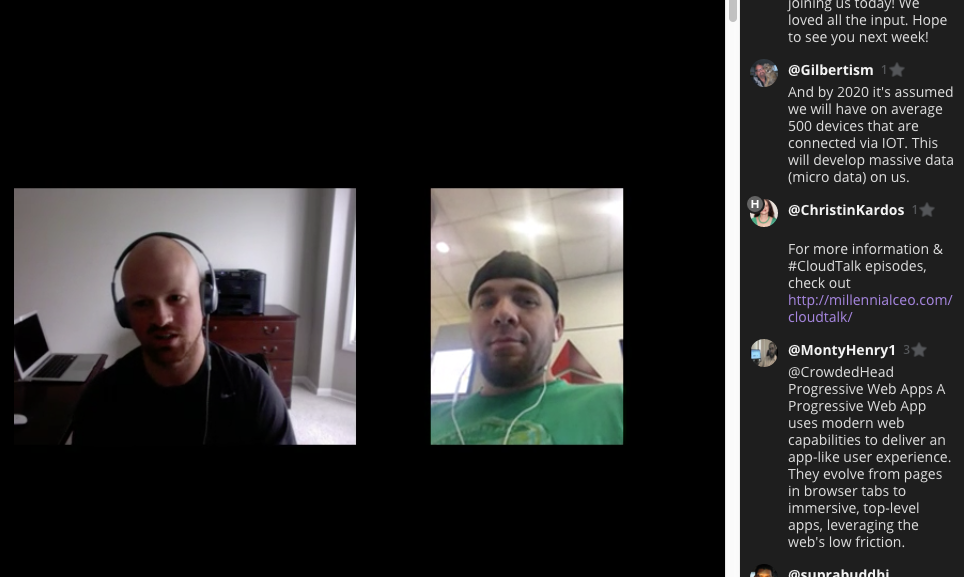 3. Increase Engagement When Live Streaming By Providing Special Resources.
Aside from encouraging discussion, you can also provide engagement and hold attention longer by providing special resources for live viewers. Half of the people in this study who watched the live video stream (and/or recorded version) downloaded the deck.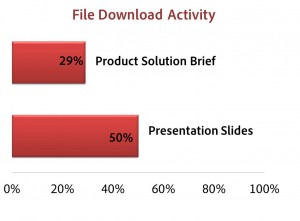 Think about what you can offer live attendees. What research or resource can you give out to those who are watching your live event? Share out a pdf or special SlideShare deck that will only be available for a brief period of time. It's one way to make the live event more special and important to attend.
4. Increase Engagement by Promoting Heavily 14 Days Prior to the Live Video Event
In the ON24 Webinar Benchmark Report, researches found that 58% of attendees register the week of a live webinar and 26% register 7 to 14 days prior.  And what's interesting is that 28% of attendees register the day of.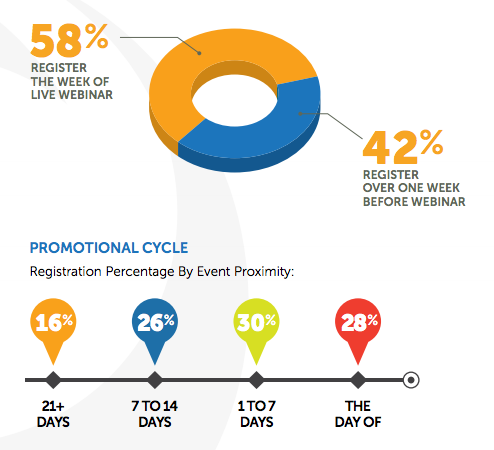 Make sure to promote your live streaming events across channels (social, email, etc.) heavily within 2 weeks of your event. And especially the day of your event.  
Oh, and make sure to promote your next event while live streaming. Post a link so that your live viewers can simply subscribe to your next stream. Don't miss that opportunity.
5. Increase Engagement by Hosting Your Live Stream in the Middle of the Week.
In the ON24 Webinar Report, they found that attendance for live streamed webinars occurred mostly on Tuesdays, Wednesdays, and Thursdays. And, the big takeaway, is that the worst weekdays for live-streaming is on Mondays and Fridays.

This doesn't mean hosting live streaming events on Mondays and Fridays isn't a strategy to test. It depends on your target audience and what you're doing. Viewership of video game live streams tend to happen mostly on Sundays and Mondays.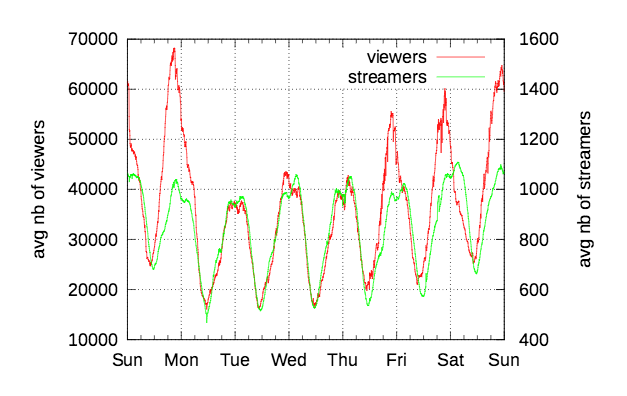 If you want to host a consistent weekly video chat, test out different days of the week (and/or survey your community for the best day for them).
6. Increase Engagement by Sharing Out The Recorded Live-Stream When Finished.
The webinar benchmark report reveals that "the majority of post-live registrations occurs in the four weeks following the live webinar, but registrations continue to steadily increase beyond 12 weeks."
This reveals that the long tail impact of live streaming video lives on.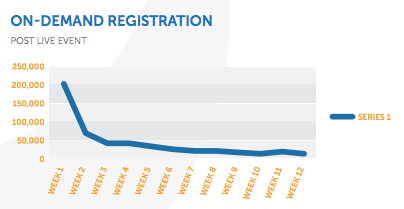 There are many benefits of sharing out post-live video content. It reveals to your community that your hosting regular events (so they can subscribe to future content). It also shows that your live-stream video content can be repackaged into podcasts, blog posts, and highlight reels for YouTube.
7. Increase Engagement by Using Live-Streaming Platforms That Are Easy to Join and Participate In
Remember to choose a video-streaming platform that will be easy to use and view (whether on desktop or mobile).
Personally, I like to run streams on both Blab and Periscope to give people access to the content on whatever channel they prefer. I know some people who actually stream across Facebook Live, Google+ Hangouts on Air, and Periscope all at the same time. If you're able to manage the engagement in all those channels, then it makes sense to test them all out to see what performs best for you.
Ultimately, you want to choose the live-streaming platform that is best for your community. Test out your options and choose the ones that will reach and engage your audience best.
There are definitely many other ways to capture and keep attention when live streaming. You need the right topics, interesting guests, a good moderator, etc. Only you'll know what content will serve your community best.
I love this quote from Jerry Seinfeld:
"This whole idea of an attention span is, I think, a misnomer. People have an infinite attention span if you are entertaining them."
I think that's true.
We should all strive to produce live-streaming video that will educate and entertain if we want to keep our audiences engaged.
Let me know what tips you suggest? What do you think about live streaming? Let me know.