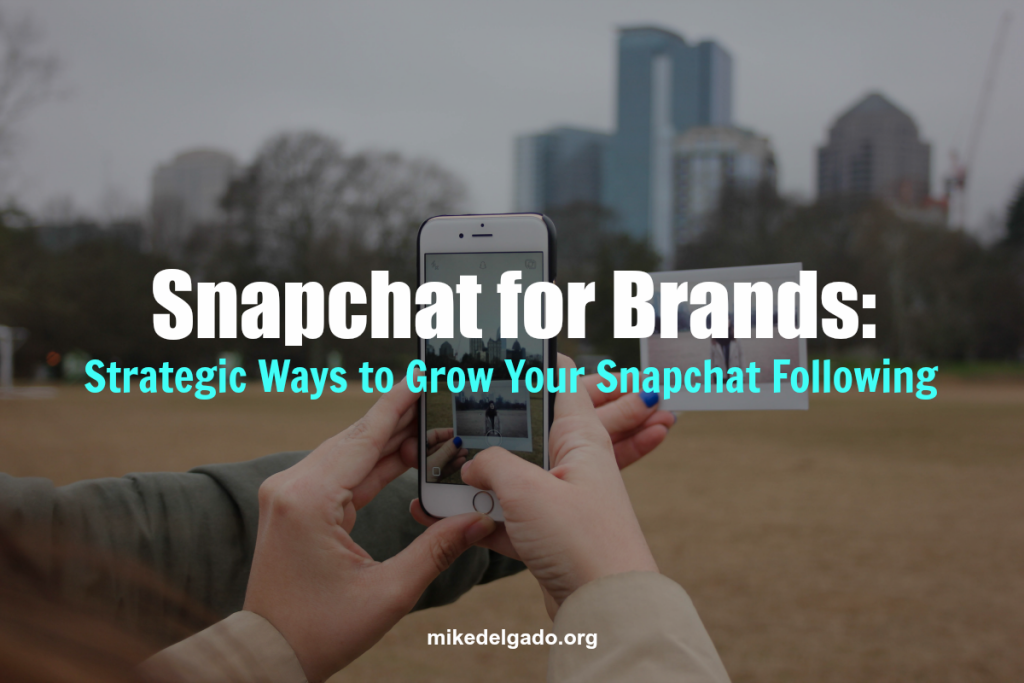 Growing a relevant following on Snapchat is difficult.
It's not as easy as getting a "like" on Facebook or a "follow" on Twitter or Instagram.
This is because it requires your fans to know your username (or have seen your snapcode) and — more importantly — have an incentive to follow you.
Here are seven strategies brands are using to boost their Snapchat following:
1. Promote your brand's snapcode on other social networking sites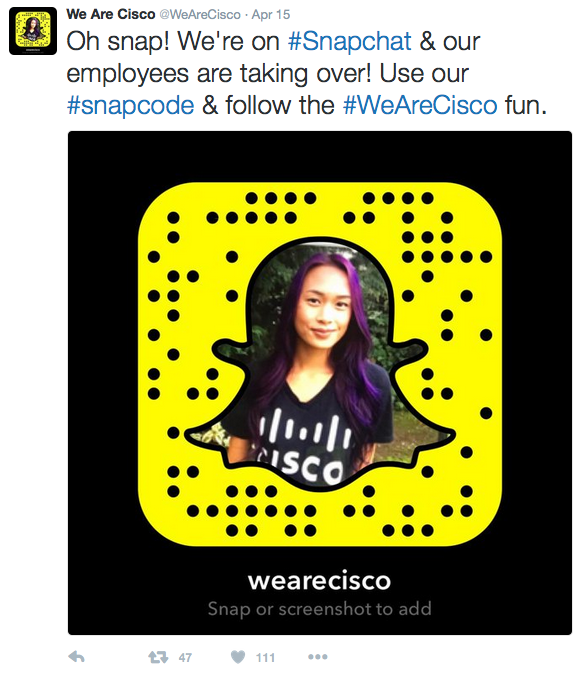 Whenever you launch a new social profile (or seek to grow awareness of another social channel), you need to let your fans know.
One of the simplest ways to do this is to use your snapcode as your profile picture — or feature your snapcode in posts. Brands doing a great job promoting their snaps on social networks include: Forbes, Cisco, MasterCard, Applebees, TOMS, IBM, Target, Taco Bell, and Redbull.
At Experian, we promote our snapcodes on Twitter, LinkedIn, Periscope, and YouTube Live events. We're always seeing an increase in followers whenever we host live community events (Twitter, Periscope, YouTube Live) — so those are times when we are promoting our snapcodes even more.
When promoting your Snapchat codes, make sure you have great snaps in queue so new followers aren't disappointed when looking to see what you snapped recently. It's also important to give people an incentive for following.
Get creative on how you promote your Snapchat account. You don't always have to promote your snapcode. You could just share a recent snap with a link pointing back to your snap account.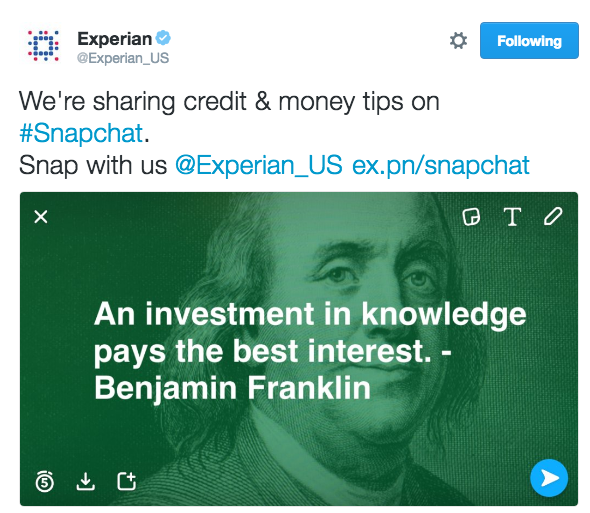 You can also add a Snapchat link in your blog sidebar or website to drive more followers. The Huffington Post added a Snapchat button linking to their snapcode — which has increased daily followers by 140%.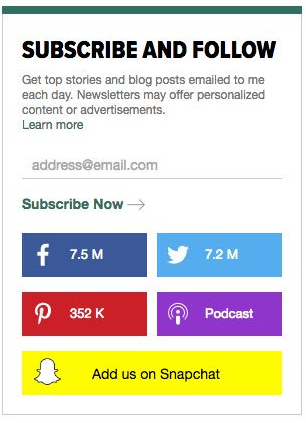 Strategic Recommendations:
Promote your snapcode or username across appropriate social profiles weekly

Ensure that you have great snap stories to view for new followers that just added you

Test using your snapcode as your profile pic across visual social networks or business sites  (e.g. Instagram, Pinterest, Twitter, Facebook, Yelp.com)

Create a Snapchat campaign to encourage fans on other social networks to share their codes with you (so you can follow them — and probably earn their follow back)

Add your Snapcode in relevant Snapchat online groups (e.g. Facebook Groups, LinkedIn Groups, Google+ Communities, Reddit, Apps like GhostCodes).
2. Create snapcode signage, marketing collateral, event swag, and business cards for trade shows or other networking events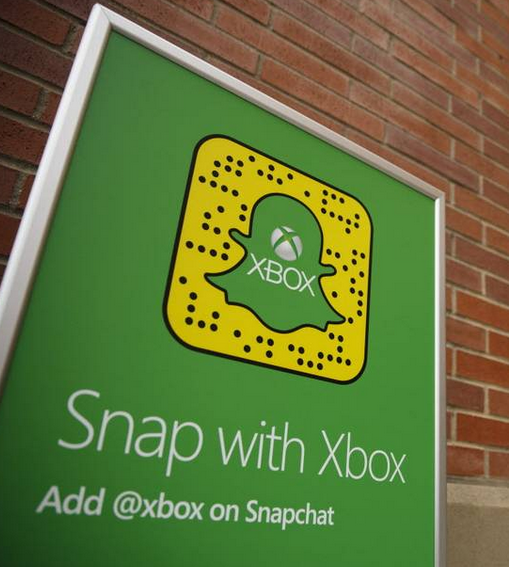 If you have a booth at a conference, it's a great idea to feature your snapcode on signage, business cards, or other marketing collateral so that it's easy for attendees to see.
And if employees are attending a conference or other networking events, make sure to have some snapchat business cards to pass out (if relevant).
I purchased some nifty square Snapchat business cards from Moo.com (with our snapcode on the front and my name, phone, etc on the back). It took literally 10 minutes to upload the code, write contact info on the back, and order.
Strategic Recommendations:
Create a snapchat contest at an upcoming conference to encourage people to use your filter.

Ask your target audience to screenshot their snap (with your geofilter) and tweet it back to you for a prize.

Add a call-to-action on your geofilter to track success. For example, include a message on your geofilter that will drive people to your booth for a special Snapchat gift.

Track all new follows from the event and thank each person with a snap back. Offer everyone who follows you a special gift if they visit you at your booth or see a company representative.
3. Increase your brand presence on Snapchat by creating on-demand geofilters at events or for other special occasions
One of the cheapest ways to promote your brand on Snapchat is through creating a geofilter to appear in places where your target audience is located. If you're a college recruiter, you could target high schools when students are applying for college. If you're a brand looking to get more attention at an important event, you could create a relevant filter to earn some easy visibility.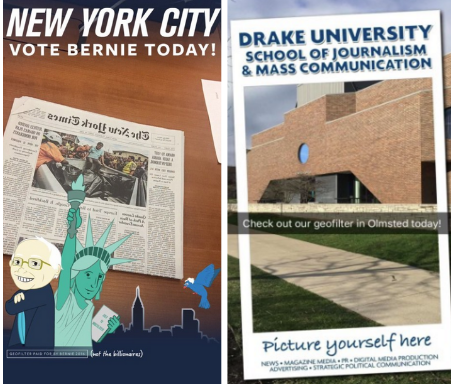 There are two types of geofilters: on-demand filters and community filters. Make sure to create an on-demand filter for your brand — otherwise you'll get rejected and waste your time submitting to the community filters section.
The cost can be minimal depending on the area you are targeting – and geofilters are easy to create.
Here are some of the main requirements:
Web-optimized, transparent PNG
Width of 1080 pixels, Height of 1920 pixels
PNG must be under 300 KB
Leave a blank buffer zone on the top of bottom (149 pixels)
I checked the cost to target a hotel in San Diego for 24-hours during an event — and the cost is around $5.00. If the conference has your target audience (who uses Snapchat), you could get a ton of great visibility. You can run between 2 to 3 geofilters at the same time, but there is no guarantee your third filter will appear. It depends how many other geofilters are running at the same time.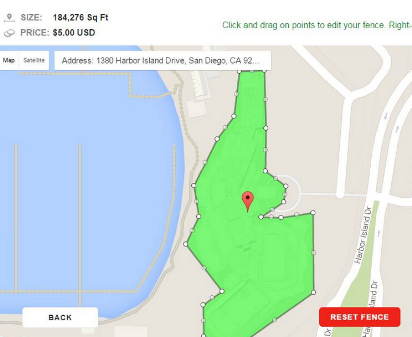 After you run your geofilter campaign, you'll find out how many people actually saw your filter (views) and how many actually snapped with it (uses). Those are the only two metrics Snapchat provides right now. You wont get details on demographics, popular times, time spent seeing the filter, etc.
Strategic Recommendations:
Don't create a geofilter that looks like an ad because you want people to actually use it

Make sure your geofilter is submitted at least 4 weeks prior to the event since it might take a week or two before you get approval. If your filter gets rejected, you'll have time to fix and submit again.

Create a fun filter that is relevant to the event and your campaign goals

Target your geofence about 100 meters around your target area due to GPS fluctuations

Make sure to submit an on-demand geofilter for your brand — not a community filter (which would get rejected)

Target areas where many people will be located to get the most visibility for your geofilters (concerts, schools, stadiums, etc.)
4. Add your favorite Snapchat stories to YouTube to earn more views and followers
It surprises me that most brands are not adding their Snapchat stories to YouTube.
If you're spending time telling great stories on Snapchat, why wouldn't you want to get more visibility on other video channels? Adding your Snapchat stories to YouTube is easy — and a great way to earn more views and relevant followers.
At Experian, we're adding two to three Snapchat stories every week on our Snapchat YouTube playlist:
Adding your Snapchat stories to YouTube allows you to archive the work you've done — and provides you video content to share out on other social channels. This is also a great way to introduce your work on Snapchat for those people who don't have the app on their phone.
Strategic Recommendations:
Make sure to include your snapchat code in the intro and outro of your videos so Snapchat users can snap your code to follow
Add your Snapchat code to the thumbnail picture of each video so that people know what to expect when they click on your video
When uploading to YouTube, make sure to use "snapchat" as a tag so that it becomes a related video for those who are looking for snapchat content
When downloading your Snapchat stories, download each individual snap and then assemble together. There is a audio sync problem if you download the complete story (and you'll end up spending more time editing sound)

Use a mobile app to edit your videos (e.g. iMovie) and make sure the settings are portrait mode so that when mobile users expand their screen, their entire device will be filled with your video (instead of black bars on both sides)
5. Encourage employees to follow and engage with your Snapchat account
One of the easiest ways to grow your Snapchat followers — and engagement is to encourage your employees to follow and provide regular feedback.
Send an internal note to employees letting them know about your Snapchat account and how they can easily follow. Let them know you'd like their feedback on stories — and ideas for future content. Crowdsourcing story ideas from your employees is a killer way to be more creative with your snap stories. It's also an opportunity to encourage more employees to get involved on Snapchat.
The more you can highlight your employees on Snapchat, the more human, approachable, and friendly your brand can become. And — if your employees like your content — they might become advocates to encourage their friends and clients to follow as well.
Cisco does a killer job involving their employees in their snaps — which is making them an attractive employer.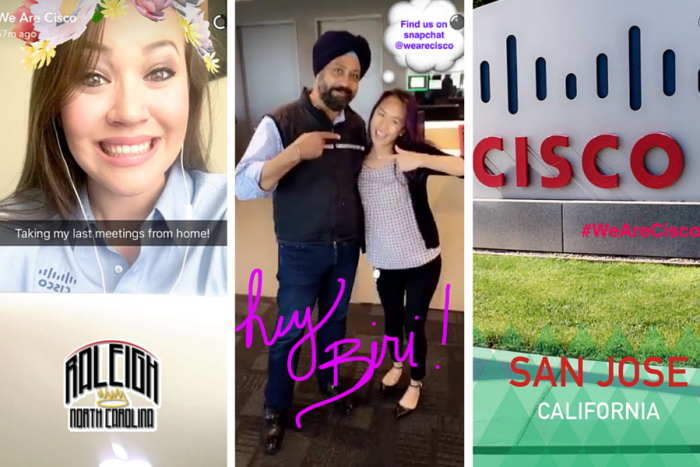 6. Snap back with new followers to find out how they heard about you (and what content they want to see)
Brands should be asking new Snapchat followers how they heard about their account. It's one of the best ways to find out what social channels, campaigns, geofilters or events are earning the most followers. It's important to know what is driving your follower growth so that you can spend more time on those types of activities.
As you snap back-and-forth with new followers, let them know what types of snaps you create and invite their thoughts on what sort of content they would like to see from your brand. Ask your followers for their advice on what they would like to learn about from you (and also find out their favorite brands on Snapchat). 
7. Offer special deals (or exclusive content) to only fans who follow and watch your snaps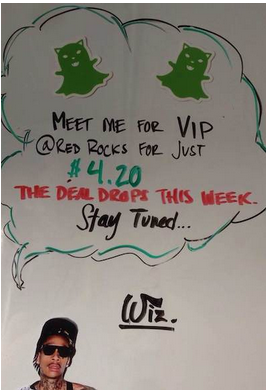 Offering special deals or exclusive content as an incentive to follow your brand on Snapchat is a great way to grow your following.
There are some yogurt and cupcake shops in my area that post secret deals to only those following on Twitter.  It's a fun way for them to drive foot traffic to their local shops.
Well, the same practice to incentivize follower growth can be used on Snapchat. Groupon used this technique on Snapchat to offer tickets to see Wiz Khalifa perform (and backstage passes) for just $4.20. They promoted this Snapchat campaign — which helped them earn new followers and a lot of publicity.
Another tactic to grow your Snapchat following is to allow takeovers from celebrities or influencers who attract your target audience.
One interesting case study is when Wet Seal hired a popular 16-year-old beauty vlogger for two days. At the time of the takeover, Wet Seal had 2,000 followers.
After the two-day campaign (with only around 15 snaps from the vlogger), she grew the account to 9,000 followers and 6,000 views of her Snap story. That's a dramatic increase in just two days — and a huge success for Wet Seal to grow a very relevant following.
Strategic Recommendations:
Create a Snapchat campaign with exclusive content (and tease out what people can get or see when following) by promoting on your other social channels.

Partner with influencers who attract your target audience and find out if they can do an account takeover for you for a several hours (or an entire day).
Feature the influencer taking over your account with their face in the Snapchat ghost so that new followers can see who is snapping

Ask the influencer to promote the takeover on their other social channels to drive more awareness
You can also significantly increase your following on Snapchat by advertising your Snapcode on other social networks — especially if you're running a campaign that will attract your target audience. A strategy on how to do this will be coming in an upcoming article.
How are you growing your Snapchat following? How do you keep your followers engaged? Let me know in the comments or snap me back: mikepdelgado
Recommended Reading:
Snapchat for Brands: How to Increase Snapbacks, Screenshots & Story Completion Rates
Strategic Guide for Measuring Success on Snapchat
Snapchat for Brands: Steps to Creating Storyboards to Improve Your Snap Stories
Strategies for Using Snapchat Memories to Build Community, Scale Snap Activity, and Improve Branding
Snapchat for Brands: Steps to Increase Snap View and Story Completion Rates
Snapchat for Brands: Focus on Building Relationships Through Private Snaps
Snapchat Stories: How Financial Companies Are Building Their Brands with Snaps