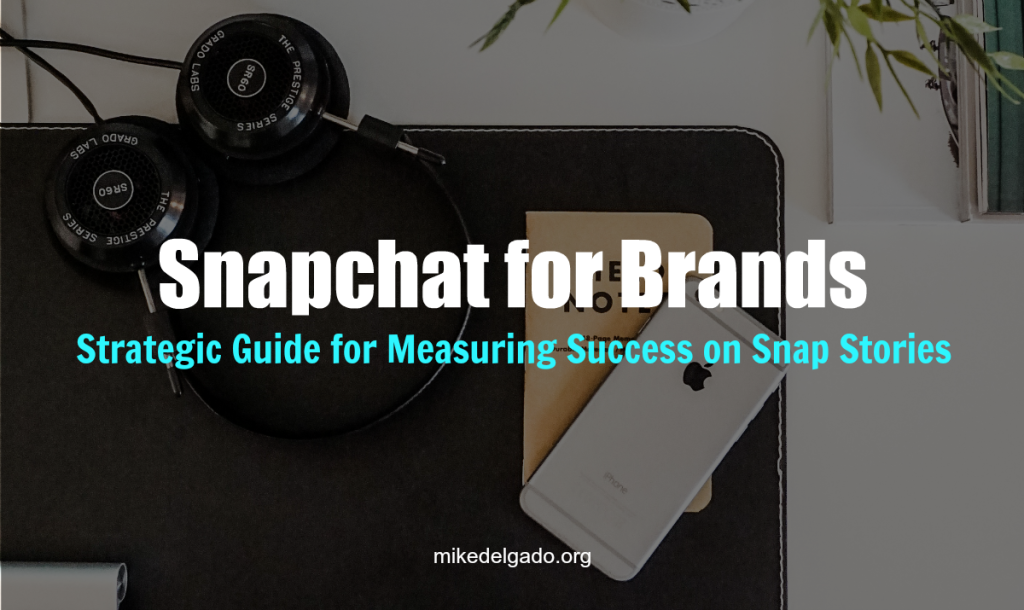 How do you define success on your social channels?
In the past, brands would focus on follower count. After all, a big following meant more reach (and provided the appearance that you had a huge fan base). It was an easy number to focus on — and a number that could be easily increased simply by spending money on advertising. The more money your brand spent on social ads, the more followers you could get.
This success metric started to decline as social channels (e.g. Facebook, Instagram) changed algorithms to reduce brand post visibility. It didn't matter if your brand had 100,000 fans on Facebook because you couldn't reach them without spending money. Fan counts became vanity numbers — and didn't amount to anything else.
This is why there has been a shift to focus more on engagement numbers (which should have been the most important metric all along). Follower count is only important if you're able to reach and engage with them. And this is especially true on Snapchat. It's not about your Snapchat follower count – it's about snap consumption (engagement).
The beauty of Snapchat is that you can't see follower counts on your account or anyone else. After all, Snapachat was built as a messaging app between friends — and wasn't mean to be a channel to see who was more popular.
The only metrics Snapchat provides us is view counts on snaps and screenshots (and those numbers disappear after 24 hours).  So any brand that wants to keep track of these key metrics needs to login every day to gather the data.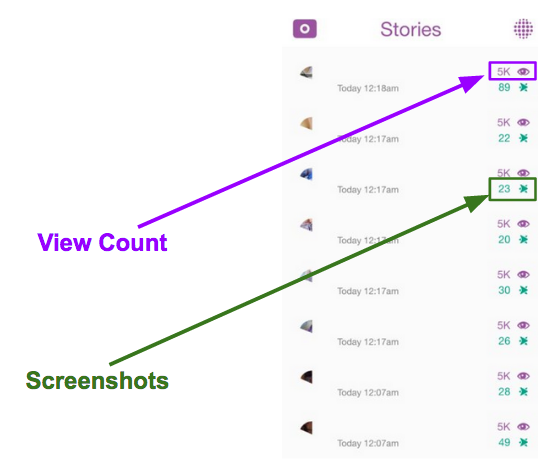 There are — of course — other metrics and ways to measure success on Snapchat. It just takes more work. However, gathering the metrics below are definitely worth your time to help you understand what type of  Snapchat content is earning the most attention and engagement.
Here are 8 approaches to measuring success on Snapchat:
1. Measuring Snapchat open rates is the first signal that you're reaching your fans on Snapchat.
As mentioned, follower count doesn't mean anything if nobody is seeing your snaps. Every brand ought to be tracking the number of views of their first snap daily (and hopefully seeing that number increase month-over-month). If the number is declining, either you are losing followers — or your losing interest from them. This first view could be considered your daily reach count – but doesn't mean much unless you can keep a large percentage of them watching your stories.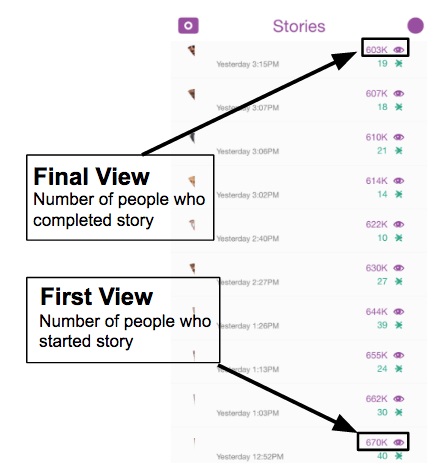 The first view count is inflated right now due to the latest algorithm update that automatically shows next latest snap from friends (whether or not the person cares to see it). So don't be too sad about the drop-off between your first and second snap.
It's also important to know that first view count is also based on how often you're snapping throughout the day. The more you snap, the more likely someone will watch the beginning of your story. The difficult part is holding their attention by creating content they will care about.
2. Measuring story completion rates daily is key to knowing if your stories are resonating with fans and increasing audience retention.
We're all familiar with website bounce rates (which is a signal for whether our web content is resonating with our audience).
On Snapchat, the bounce rate metric is the story completion rate. You can easily figure out your story completion rate by dividing your final view count by the first view count.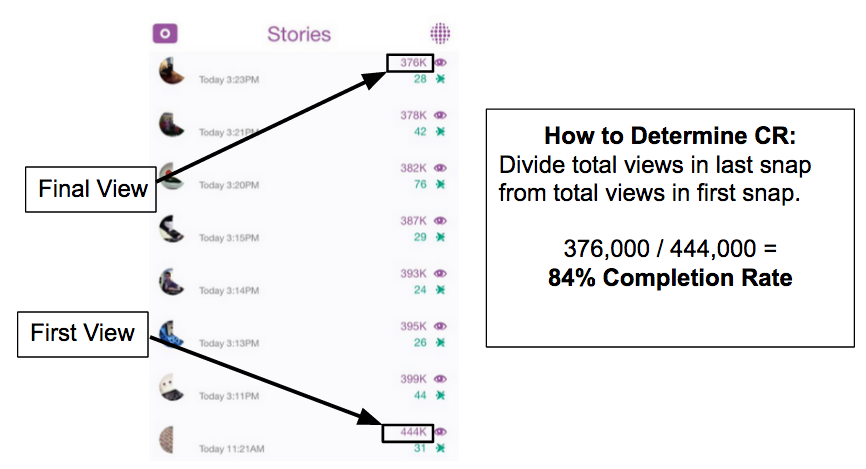 Huffington Post claims that their average story completion rate is 60%. It's important to set a benchmark for yourself on how many people complete your stories since this will help you track story success. Make a note in your spreadsheet when a particular story has a high story completion rate so that you remember what content kept engagement longer.
Keep notes on number of snaps, types of content (videos, photos), topic, and snapbacks that day to help you determine what led to higher completion. The more you snap (and longer stories) will probably get lower overall completion rates — but that shouldn't prevent you from snapping throughout the day — which will help you increase overall reach.
3. Tracking screenshot counts helps you identify what particular snaps are liked the most and a key way to find out who is most interested with your snaps.
A lot of people are referring to screenshots as the "like" on Snapchat. It means that your follower liked your content enough to add that image to their camera roll. One goal as a brand is to focus on growing the screenshot rates on your daily stories. One way to do this is to figure out what content resonates and what type of content is earning screenshots.
Analyze the screenshots to learn if you earn more on photos, videos, photos with text, videos with text, funny pictures with emojis, etc. And — of course — what content appeared that earned the most screenshots. The other huge value of tracking daily screenshots is finding out who is taking screenshots. Take a look back at your snaps with the most screenshots to see the names of people who took pictures of your snaps.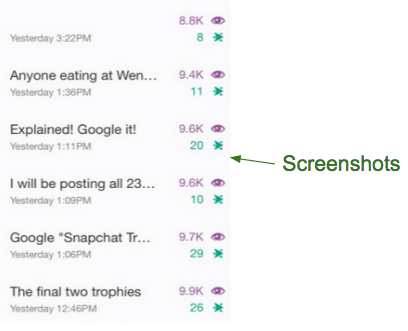 Get familiar with the names of people taking screenshots regularly because these could be loyal fans of your brand — and might be people to reach out to in the future for a campaign.
4. Measuring the number of snapbacks your brand receives is essential to learning what your community cares about (and a killer way to begin a dialog with them).
Comments on your other social channels are an important metric because it's a sign that your content is interesting enough to earn feedback from your fans. Comments can reveal topic interest — and can show community growth on a brand's social profile.
On Snapchat, replies are private so nobody else would see them except you — and they will disappear if you don't save them. This is why it's important to not only keep track of the number of snapbacks you receive each day — but save the comments that are most meaningful.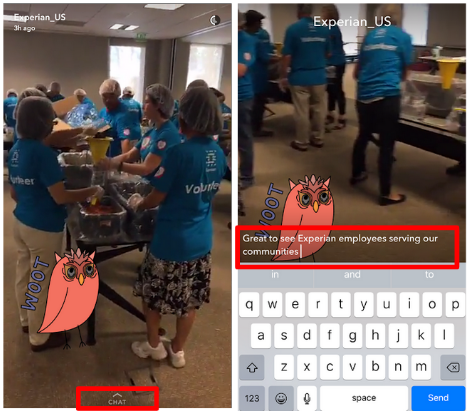 You can save meaningful comments by either typing them out in a document, taking a screenshot (which might annoy the person because they'll get a notification you've screenshot their snap), or press down on their message to auto-save their message to you.
A big part of social media reporting for a brand is not only tracking the numbers (quantitative data), but also showing the type of feedback received (qualitative data). Make sure to track meaningful replies so that you can report it and share what content is resonating best with your fans on Snapchat.
5. Track how and why you earned a new follower (which will help you figure out what promotional efforts are leading to Snapchat growth).
Another daily activity is to track the number of new followers you are getting since there isn't a follower count number in Snapchat. As mentioned, follower count isn't as important as engagement metrics (views, screenshots, replies), but it's important to track because your brand should see growth month-over-month.
As you know, you can only be followed by username, snapcode or by someone following  your back.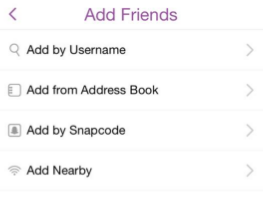 When someone adds you by your snapcode it means that someone saw your snap image and snapped it to add you as a friend.
When someone adds you by username, it means they must have seen your username at some point and took the time to type it into Snapchat. Either way, the person must have seen your code promoted somewhere (most likely on one of your brand's social channels or possibly promoted by another person on Snapchat). The key is to understand what led the person to follow you — so ask all your new followers.
Every brand ought to thank new followers — and ask them how they heard about your Snapchat account. This will help you understand what promotion is working best for you. Once you found out what efforts are leading to more followers, you know what activities to keep doing.
6. Measure traffic from Snapchat by sharing short URLs that are specific to Snapchat campaigns
Getting traffic from Snapchat requires work because it means you need to provide reasons why the person should screenshot a URL and go there. So when you do share out URLs on Snapchat (and go through the effort of sharing why someone should check it out), you ought to share a custom URL that informs you the traffic came from Snapchat.
You can create custom URLs for free with services like Bit.ly — or hopefully your company has a simple way to create branded short URLs for campaigns. It's just important that you create a unique URL that is memorable and easy to type into a browser.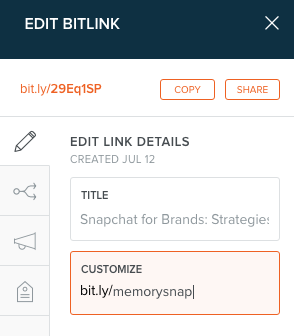 In the example above, I'm using the word snap in my URL to help me easily identify snapchat website referrals. Bit.ly also provides data on URL activity (which you can report out as a success metric as well). Traffic from Snapchat will probably be a low number for brands with small followings — but it's a number you can track month-over-month.
7. Measure how your Snapchat content performs on other social channels (e.g. YouTube, Twitter).
A great way to measure success on Snapchat content (and help it live longer than 24 hours) is to share screenshots on other social networks and archive favorite snapchat stories on video networks (e.g. Vimeo, YouTube).
When creating Snap visuals for different social channels, crop and size the image appropriately to get the best visual in the stream. For example, when sharing snap screenshots on Twitter, use images in landscape mode for best visibility.
Here is a snap posted on our Experian Twitter account in landscape mode: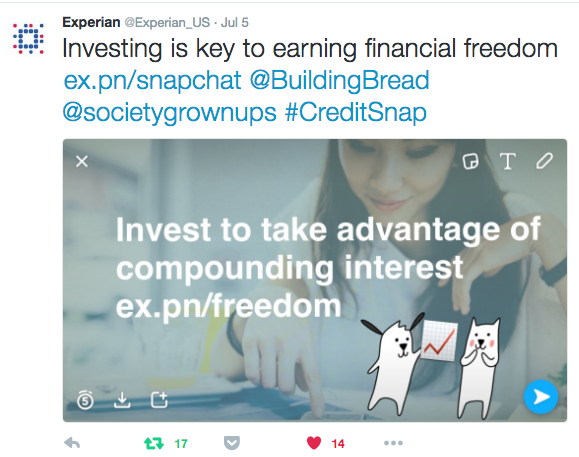 It's also important to track snap engagement on other social networks by assigning a unique hashtag (or set a campaign in your social media management platform).  This will help you measure reach and engagement on snap videos and visuals you've shared out (which can also help you determine what content resonates best with your community.
You should also archive your favorite snap stories on YouTube to extend the life — and track further engagement. Vertical video might look odd when viewing on a desktop, but looks great on a mobile device since the video will fill the screen in portrait mode. Besides, your brand ought to be producing more vertical video for mobile users who spend 90% of their time using their phone in vertical positions. This might be one reason YouTube has received a 50% increase in vertical video uploads last year.
When tracking snap video success on YouTube, focus on engagement metrics like time watched and clickthrough behavior (when sharing out links). It's not just about views anymore.
8. Track time-of-day snap activity to figure out the best days and times to snap
To build a loyal following, brands should try to snap daily – but that's not realistic for most companies just starting out.
Right now, most brands are only snapping twice a week. So if you're unable to snap daily, you want to make sure to snap during times when your target audience is most likely to see you. This means you need to test different days of the week — and different times in the day to find optimal periods for snap visibility.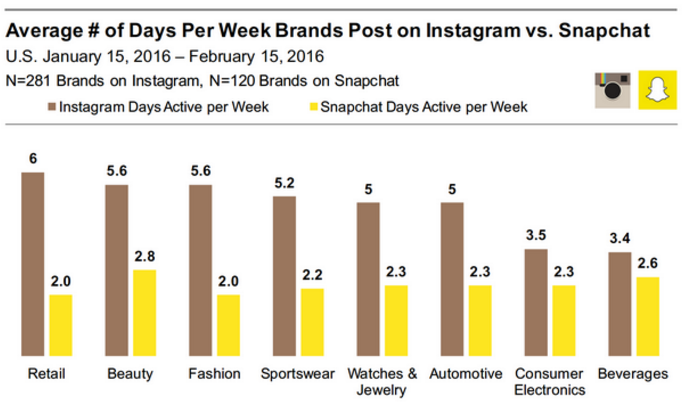 Every audience is different so every brand needs to test this out for themselves. To test late night snaps (or early morning), you can add your snaps to Snapchat Memories during the day and then publish at night when you're at home. 
So how do track Snapchat engagement? Let me know in the comments or snap me at: mikepdelgado
Recommended Reading:
Strategic Ways to Grow Your Snapchat Following
How to Increase Snapbacks, Screenshots & Story Completion Rates
Focus on Building Relationships through Private Snaps 
Steps to Increase Snap View and Story Completion Rates
Snapchat for Brands: Steps to Creating Storyboards to Improve Your Snap Stories
Snapchat Stories: How Financial Companies Are Building Their Brands with Snaps
Strategies for Using Snapchat Memories to Build Community, Scale Snap Activity & Improve Branding