The adoption of virtual reality headsets is exploding thanks to the gaming community. It's projected there will be nearly 171 million people using VR by 2018 and 500 million VR headsets sold by 2025.
And Goldman Sachs' researchers predict that virtual reality and augmented reality will continue to expand beyond gaming and into healthcare, engineering, real estate, retail and live events.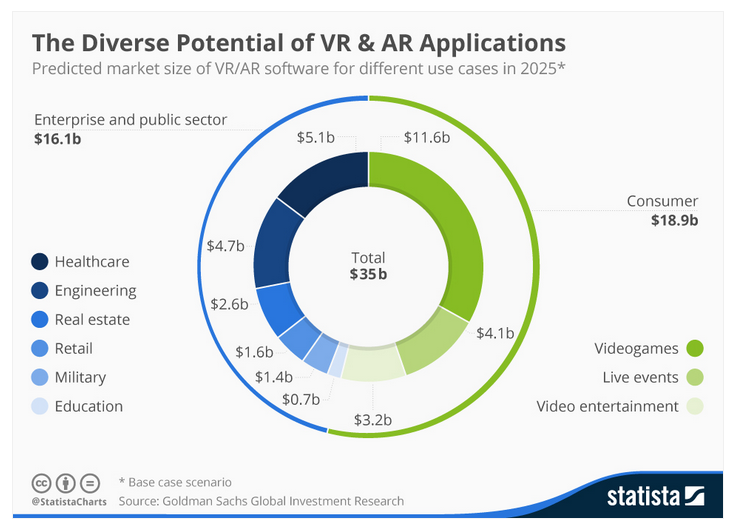 Virtual reality and augmented reality is a key way for brands to create memorable and positive experiences for their target audiences. However, the entry fee for developing VR and AR content is often unjustifiable for many companies. After all, running an augmented reality campaign on Snapchat with animated lenses can cost up to $750,000.
That said, now is the perfect time for brands to begin brainstorming ways to leverage VR and AR for their communities. You might not have the budget now, but as adoption rates of VR and AR technology increases, your brand should be ready.
To prepare you for virtual reality storytelling, brands should begin experimenting with 360 video which is easy and cheap.
Here are three simple steps to help you experiment with immersive video to help your community:
1. Start testing immersive video content by using low-cost 360 degree video technology to help your community
If your brand wants to stay innovative on social channels, you should start experimenting with 360 video technology. After all, the entry-fee is extremely low depending on the camera, software, and audio equipment you decide you use. And you can easily publish 360 video to YouTube and Facebook.
There are low cost 360 video cameras like the Ricoh THETA S and Samsung Gear 360, which will allow you to easily create 360 degree video content for under $350.00. The video and sound quality might not be perfect, but the minimal cost can help you get started. If you want to create high quality 360 degree video content, you can purchase the GoPro Omni rig for about $5,000.
When testing 360 video, you'll want to learn:
Camera Positioning (learn where video stitch lines are located and how close your subjects should be)
Lighting (ensuring that the area you are shooting has ample light all around the camera)
Spatial Audio (how to leverage sound from around the camera)
Video File Sizes (video sizes are huge so keeping your stories brief will save you editing time)
360 Storytelling & Editing (how to guide viewers on where to look)
At Experian, we're testing 360 video to give our community a behind-the-scenes look at some of the work we're doing. 360 video content is easy to produce and provides us an easy way to test out ways to best serve our community with immersive storytelling.
Here's a behind-the-scenes look at our weekly #CreditChat on YouTube Live, Periscope and Facebook Live in 360:
2. Start incorporating 360 video into the 2D video projects your brand is already creating.
One simple way to experiment with 360 video is to bring the camera along to video shoots your brand is already producing. You see, 360 video can give your community a behind-the-scenes look at a video production. It's a fun and simple way to create 360 video without spending extra time developing a story ahead of time.
If your brand is active on Facebook Live or Periscope, think about creating a highlight reel in 360 where viewers can watch you, your phone with comments appearing, and anything else happening in the background. The point of this is to experiment without needing to budget extra time in your day. You simply record work you're already doing and giving your community a 360 behind-the-scenes look.
One of my favorite behind-the-scenes 360 videos is a story about how TOMS provides shoes to children in need. The beauty of this video is that it simply documents their trip to Peru and they tell their story in a stunning way:
3. Start sharing helpful 360 video with your community (that you didn't create) to see what content resonates with them.
If you don't have the time or budget to start experimenting with 360 video, then start sharing 360 content you didn't create. The goal of sharing these 360 videos with your community is to learn what sort of 360 content is getting the most engagement. This can help you determine what types of videos you might want to produce in the future.
As you research different 360 videos, you'll also get ideas for potential ways to tell stories in 360 so keep a notebook handy. You might not have budget now, but you should be ready the moment you're given the freedom to test it out. Testing out other people's 360 content will help you learn what engages your community (and will help you build a case for creating your own). 
Are you brainstorming ways to use 360 video? Have you already started experimenting? Let me know what you're learning or want to test in the comments? I'd love to chat further with you.